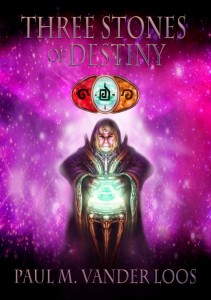 Today we have a sneak peek from the fantasy novel by Paul M Vander Loos, Three Stones of Destiny.
Mirrortac is found guilty of sacrilege against the god of his ancestral cousins, the roznogh, after he steals their most sacred object of power, the Werdstone. Worse, he later kidnaps its keeper in a mission to liberate three planets from enslavement by the god Yidu – a much revered deity of an alien master race. The key to his power lies in three mysterious stones, all of which connect to the Werdstone.
Mirrortac not only loses face, but also his mind, leaving his three children and an unlikely ally the only ones who can ensure the success of his ambitious quest.
Three Stones of Destiny is available through Amazon.com and Amazon UK.
Here is an excerpt from Three Stones of Destiny… Continue reading "Sneak Peek: Three Stones of Destiny"