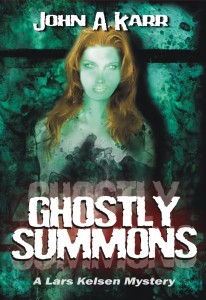 Today we have a sneak peek from author John A. Karr's paranormal suspense novel, Ghostly Summons.
Lars Kelsen doesn't believe in psychic phenomenon. To him, visions of murder victims are a form of mental illness. Once they begin, options are limited; he can try to ignore them or deal with them by exposing a killer. Only the latter provides any semblance of peace. Temporarily, anyway. Five years into his new life as a programmer, Kelsen—ex-crime beat reporter with a penance he can never fully satisfy—sees a victim.
In person. Upright. Staring.
So begins Kelsen's return to investigative reporting—complete with attempts on his life, fights, deception, and use of technology such as GPS and computer hacking. And possibly finding a new love interest.
Ghostly Summons is available through Amazon.com, Barnes & Noble, and Amazon UK.
Here is an excerpt from Ghostly Summons… Continue reading "Sneak Peek: Ghostly Summons"