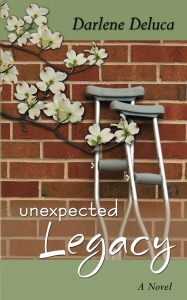 Today we have a sneak peek from author Darlene Deluca's contemporary romance, Unexpected Legacy.
Matt Dalton's world is spinning off its axis. Without warning, he's thrown into the world of parenting a teenager. When he turns to the lovely Kate Austen to help his son regain his athletic abilities and sense of self after a tragic accident, Kate is ready to fight for Brady. But when Matt asks her for a date, she has to fight her attraction to the man. High school principals don't date the parent of a student. How much will she risk if she follows her heart?
Unexpected Legacy is available through Amazon.com and Amazon UK.
Here is an excerpt from Unexpected Legacy… Continue reading "Sneak Peek: Unexpected Legacy"