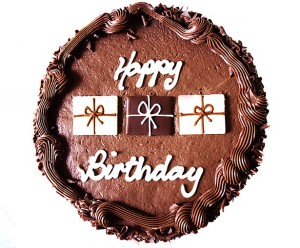 I have never been comfortable sounding my own horn, so my first two books slipped into the world with minimal fanfare. But for my third book, I have a list of a hundred rooftops from which I plan to shout, because it took many years and tears to write (and rewrite), and I want my characters to find the people who will love their story like I do.
For that and other reasons, I considered launching the book with an actual, in-person event. The problem was that when I mentioned the idea of throwing a party to a couple of people close to me, they said, "What for?" Of course, I thought it would be a fun way to thank everyone who has encouraged me and to introduce them to my new story at the same time. However, that question clarified something I hadn't realized: Writing a book isn't considered a life event. After all, it's not like I had a baby or got married or bought a house or lived another decade.
No, I didn't do any of those things. Because seven years ago, I read that if you really want to be a writer, you have to do it to the exclusion of all else. So, while my friends were getting married, I was reading reference material; when they were buying houses, I was building my platform; and when they were having kids, I was birthing stories. Of course, I can't claim that my entire life course has been about writing, and not every book is necessarily a monumental sacrifice and achievement. However, all writers do have to make choices to write when they could be doing something else. So I say heck, if your creation has taken longer than nine months from conception to birth, you deserve a shower, too.
In a perfect world, an author wouldn't have to throw her own party: she'd have a maid of publishing honor who would invite the guests and buy the ice cream and decorate the living room. But in reality, sometimes the people in an indie writer's life don't quite understand the avocation. I suspect some of you know what I mean. Maybe you're reserved like me and just don't know how to tell your loved ones that writing a book is a big freakin' deal. If so, then I have prepared for you the following form letter.
To Whom It May Concern:

Someone you care about just published a book. This is not a wedding announcement or an invitation to a baby shower, a house-warming party, or a birthday celebration; but it is every bit as momentous. Because this accomplishment required searching for the right story, getting to know the characters and committing to them, crying over obstacles but laboring through, then sending a creation into the world–with more than a little apprehension and a twinge of postpartum blues.

Maybe you don't intend to read the book–it costs too much, or it's not your thing, or you won't know what to say–or maybe you read it and think that baby is ugly. Don't worry; just ooh and aah about the birth. If your friend marries a guy you don't like, at the wedding you can still shake the groom's hand and smile at the bride and let the happy couple have their day.

Because in the end, it's all about this: Someone you care about just achieved a personal goal that once was only a pipe dream. So for crying out loud, bake a cake.

Sincerely,

A Fellow Writer

P.S. Flowers are a nice alternative, and so is a hug.