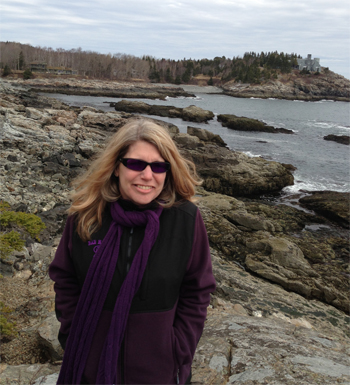 Welcome to The Learning Curve. This is where I chronicle my adventures as a new writer. The goal is to inspire you to put that bag of chips down, step away from the television, and tell the world a good story.
A Retreat from Writing
Summer is coming! Yeah, okay. I actually prefer winter, but I know many of my fellow scribblers like the warmer weather. Some may even look for a writers' retreat this time of year in a remote and desolate locale with the hope of writing without any distractions. A few brave souls may even bring their laptops along on a family vacation. By the way, good luck with that. Personally, this approach has never caused anything but angst in my world. This year was the only exception.
I always try to do something special for my wife on her birthday. Back when we were dating, I took her to Rome for her birthday and proposed to her in the Sistine Chapel. That, my friend, is a hard act to follow. Still, I tried. Each year I would come up with something new and exciting, always trying to set the bar higher. From a motorcycle with riding lessons one year to a Mustang convertible the next, the goal has always been to surprise her. This year I ended up surprising myself though.
The idea was to whisk her away on a romantic island getaway and go from one adventure to the next. Whale watching, hiking on the coast, and a sunset tour in a bi-plane were all on the agenda. In between the antique book shopping, wine tasting, spa, and countless lobster feasts I had something else in mind. After all, I did bring my laptop.
The five weeks leading up to our vacation were the most productive, in terms of writing, that I had ever experienced. At forty-seven-thousand words, my work in progress was a third of the way done. The last chapter in part one was the most difficult to write, and I banged my head against the keyboard many times trying to piece the final scene together. A couple of days before we left I told myself to relax, it would come. It did not though, and I had to bring the laptop with me; there was not a choice in the matter.
Experience told me this was a bad idea. Trying to write while on a vacation, especially a romantic one, leads to a path of heartache. I was so close, though! Granted, it was only the ending of part one in a three-part story, but it was a milestone I wanted to complete. I packed the laptop thinking there would be time between our little adventures to work on the story. There was not. In fact, I only unpacked it once to check the weather, and somehow…somehow this was okay.
There were only two times during our vacation that I thought about writing. One was on the Stephen King tour we took in Bangor, Maine. The other was when I let my wife read the WIP. Even on our return trip, with a seven-hour delay in the Philadelphia airport, the thought of writing never crossed my mind. Of course, drinking two bottles of wine while sitting at the airport café might have had something to do with this. I do vaguely recall asking one of the tram drivers if he would drive us around for a while, but I digress.
It was not until we returned and I sat in front of my computer to read the previous chapter that the final scene fell into place. Five hours later and part one was complete. Could I have done this if I went on a writers' retreat instead of a vacation from writing? Eventually, sure I could, though I would have missed out on spending quality time with my wife. Sometimes you have to remember to take a break. Come up for air and spend time with the family. Take a vacation from writing and recharge.
Now, I told you all of that to tell you this…
I had the perfect vacation. It had nothing to do with the Stephen King tour, the sightseeing trips, or anything I actually planned. They were great, don't get me wrong, but the highlight of my trip was watching my wife lounge around the house on a rainy day reading my work in progress on her Kindle. I caught her laughing several times and watched as her brow furrowed during the middle chapters. I am paraphrasing here, but when I heard her say, "Oh crap!" I knew exactly where she was in the story. My friend, there is not another feeling like this in the world. That's why we write.