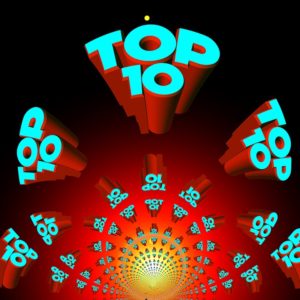 Or maybe that should be bottom. These are ten of the … what should I call them? Mistakes I commonly see in indie books. Pet peeves. Maybe just the kind of things that will turn me off when reading a book.
I'm no David Letterman, but we'll try it his way.
Top 10 Ways to Lose a Reader
10) Making a geographical faux pas. If you write fantasy, or science fiction set in the future on a planet in a galaxy far away, you get a pass. You've defined your own world and all is well. But set your story in a real place in contemporary times and there is a limit to how much you can get away with before you'll throw the reader who knows the area out of the story or even pass the point where some readers will no longer be able to suspend disbelief. A general rule might be that the importance rises as the place is better known and the more specific you get in your other details. For example, the book that took place in my small-ish, little-known city got a pass for giving the protagonist a twelfth floor apartment where not even the grain elevator (the highest structure in town) comes close to that height. But turn east from Chicago when headed for Des Moines or experience a four inch snow storm in Orlando without a good explanation and we've got a problem.
9) Over doing an accent. This would apply to any strange quirks a character has. It's a balancing act between adequate characterization and bogging the reader down in interpretation. A little bit goes a long way in this area.
8) Starting with an information dump. Your first few pages need to grab the reader's attention. Do that with action or conflict. Flashing lights in the rearview mirror or a woman slapping the protagonist and walking out works. A meeting with a series of speakers droning on forever, doesn't. Saving the information dump for chapter two or moving it to a prologue isn't much better. Anytime you're spending multiple pages doing nothing but dumping back story on the reader, odds are you have a problem.
7) Unrealistic … anything. The American teenager saying she's "going to the loo." Not likely, unless she's a fan of Masterpiece Theater. The character who magically has knowledge on a subject about which they couldn't possibly have a clue. For example, making a comment about the habits of another character she first met seconds before.
6) Contradicting facts already in evidence. These are usually little things. A character changing from a blonde to a redhead. An office building jumping from downtown to the suburbs.
5) Too much back story. Even if it isn't dumped on the reader all at once, there can still be too much back story. I know authors are encouraged to understand their characters, even going so far as to write a character biography for reference. That doesn't mean all of what you know about the character needs to go in your book. If it doesn't pertain to the story or serve a clear purpose in characterization, it doesn't belong.
4) Head hopping. Multiple point of view characters are fine. (In the romance genre, you always have at least two.) But for each scene (even better would be each chapter) stick with one point of view. There are exceptions. If you're writing from a third-person, omniscient perspective, then your narrator, by definition, is all seeing and all knowing. He, she, or it might be jumping from head to head. It's also hard to pull off well because if it isn't very clear whose head you're in, the reader will become confused. Thoughts from two characters in a single paragraph is almost always going to be a problem.
3) Proofing and copy editing misses. Included in this are typos, grammar errors such as using the wrong pronoun or verb tense, and homonym errors. This would be number one on the list, except I've already written about it twice, in this post on proofreading and another addressing homonym errors.
2) Show, don't tell. This is one of the most common of issues. Don't tell us she was mad. Show us her red face as she stomps off. But this can also be the most overused of "writer's rules." Some things are best told. If your character drives across town, it's okay to just tell us if nothing important happened along the way. But there is probably no need to give us a turn by turn account of the trip. Robert Parker may do this in his Spenser novels, but few authors are Robert Parker.
1) Repetition. Repeating yourself. Telling us the same thing over and over and over and over. This issue takes many forms. Sometimes it's almost as blatant as what I just did. Other times it's using the same word multiple times close together, as when one book described a character's actions with a sequence of sentences that read like monotone speech. "He did this. He picked up that. He went here." Mix up sentence patterns and word choice. Repetition can even be a problem between two distant parts of the book. Using an uncommon word choice a handful of times throughout the book will make that word jump out and jar some readers out of the story by the fifth occurrence. Flashing back near the end of the book to a scene from the beginning because you want the reader to have it fresh in their mind might be okay. However, repeating everything is overkill. This only indicates you don't trust the reader to remember.
As with all rules, there are exceptions to many of these. I've mentioned some. What others can you think of? Are there issues you consistently find in your own writing or that of others?