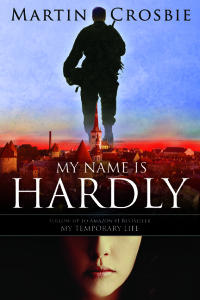 My Name Is Hardly
by Martin Crosbie
Genre: Thriller/Suspense, Literary Fiction
Word count: 73,000 words
A beautiful girl is missing, and may or may not want to be found, a soldier on his last and most dangerous mission, and a vow made to a dying friend. Northern Ireland, in 1996, was one of the most dangerous places in the world. The government called it a state of unrest, the people who lived through it called it the time of "The Troubles".
Gerald "Hardly" McDougall is a forgotten man. He's abused, bullied, and left behind. The only escape left is to join the British Army. At first, he's a reluctant soldier, then everything changes when tensions in Northern Ireland escalate and the Army need a man with a particular set of characteristics. Hardly's re-assigned and sent into the heart of the troubles, living in the same houses as the IRA soldiers he's fighting against.
MY NAME IS HARDLY takes the reader on a twenty year journey through Hardly's life–from the beginning, when he leaves Scotland and joins the Army, to the tragic final days when his time as a spy in Ireland has to come to an end.
Follow-up to the #1 Amazon Bestseller-MY TEMPORARY LIFE.
Please note-although this is book two of a trilogy, it is a stand-alone novel, and it's not necessary to read the first book in the series in order to enjoy MY NAME IS HARDLY.
This book is available on Amazon.
Martin, how did you come up with the title for your book? Does it have any special meaning?
Hardly, is a character from my first book and due to emails and messages from readers, I wrote a book about him. The title came from one of those same readers who asked for more of Hardly.
Who was your favorite character and why?
I actually liked the character of the Provo. It's difficult to say why without giving away some of the story but he was a character who proved to be a lot more complex than he originally seemed.
Does your book have any underlying theme, message, or moral?
Yes, it does, but I'd rather the reader discover that for themselves. But, I suppose, I would hope that in some way it might make someone examine their views when it comes to the seemingly black and white issues of wars and conflicts.
What would/could a reader or reviewer say about this book that shows they "get" you as an author?
I want to continue to become a better writer with each book I produce. So, when readers have said they thought MY NAME IS HARDLY is a better book than my first book it shows me they understand what I'm trying to do and that I'm here to stay.
Give us an excerpted quote from your favorite review of this book:
Crosbie's authority as a writer announces itself from the very first sentence…with deep sympathy for his displaced characters, caught between cultures…living as internal exiles looking for a place of comfort.
Where can people learn more about your writing?
http://martincrosbie.com/the-perfect-self-publishing-workshop/