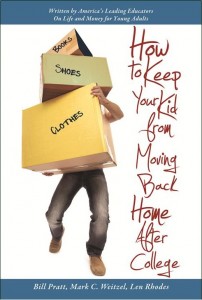 How to Keep Your Kid from Moving Back Home after College (The Money Professors Series)
Available from Amazon in print or Kindle editions.
The book that helps parents guide their student through college from acceptance letter to graduation day. Parents will learn how to help their student manage his or her spending and finances while in college, determine the best and worst ways to pay for college, choose the right major and more.
Sadly, only a third of college students will graduate in four years and just 25% of college students have a job lined up at graduation. Even more sobering is that 80% of college students move back home with their parents after graduation. This book helps parents to help ensure their student walks across the stage within four years with a diploma and a job.
The three authors are industry leaders in personal financial education. Together, they have a combined 75 years of experience in banking, economics, and entrepreneurship. Now, they teach thousands of students personal finance concepts and decision-making skills as authors and as college instructors. The other books in The Money Professors series include The Graduate's Guide to Life and Money and Extra Credit: The 7 Things Every College Student Needs to Know about Credit, Debt & Ca$h. Their books, lectures, and programs give students, parents, and educators the tools and knowledge to make good financial decisions all their lives.