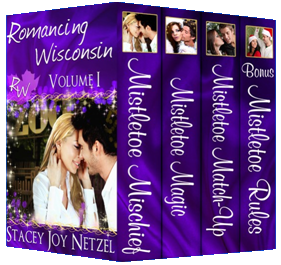 Today we have a sneak peek from USA Today Bestselling author Stacey Joy Netzel's contemporary romance box set: Romancing Wisconsin Volume I.
Christmas recipe for love—combine a matchmaking Santa, lots of mistletoe, one iron-clad rule, fated hearts; mix and stir. The Riley siblings don't stand a chance.
Christmas in July is the theme of Mistletoe Mischief, with two single parents who never expected to find love at the zoo. Mistletoe Magic centers around an animal rescue and an Army veteran trying to move on with his life after a traumatic third tour of duty. Mistletoe Match-Up brings together two former high school rivals for a whole new set of fireworks. Each story features Santa Butch, a mischievous matchmaker with a heart of gold.
Currently on sale for 99 cents, 25% of the net royalties for this boxed set for the month of June 2013 will be donated to the Wounded Warriors Project to help American veterans.
This eBook box set is available from Amazon, B&N, Kobo, Apple, and Amazon UK.
And now, an excerpt from Romancing Wisconsin Volume I…
From Mistletoe Magic:
She gave him a quick half-smile and sidestepped toward the wagon. "It was nice to meet you, Major. Thanks for doing such a great job as the jester."
"You're welcome, and you can call me Mark, you know."
"Major's safer."
The briefest flash of consternation in her expression told him she hadn't meant to say that out loud. When her foot landed on the step so she could pull herself up into the driver's seat, Mark caught her arm and turned her around. She grabbed hold of his shoulder to keep her balance on the narrow step.
"If I don't do this, it's going to drive me crazy until I see you again," he told her in a low voice.
Her throat muscles worked in a hard swallow. "Do what?" A downward flick of her gaze said she knew the answer to her own question.
He let his mouth relax in a slow, confidant smile. One step closer brought him close enough to brace a hand against the wagon on either side of her. "I gotta tell you, pretty as you were as the Snow Queen, elf suits you better—although I do miss those cute, pointy little ears."
She rolled her eyes. "Oh, please."
He took a moment to let his gaze roam over her face. Snow drifted down silently and their breath mingled in the frigid air. Mark drew out the anticipation of what was to come, enjoying the awareness that warmed the space between them.
"You look like Christmas," he murmured.
One corner of her mouth twitched. "I'm guessing it's the costume."
He shook his head and reached up to twirl a red curl around his finger, watching the silky length wind against his skin before holding her gaze with his. "Red and green, and all wrapped up like a delicious, cinnamon scented present."
She laughed softly.
Mark closed the remaining few inches, pressing the length of his body to hers. "In fact, I think I need to go find Santa and tell him I've been a real good boy this year."
He spoke the last words a hairsbreadth away from her lips.
"You ain't been good enough for my granddaughter, sonny."
Mark froze. Amusement sparkled in Janelle's eyes. With an inward groan, he took a step back from Janelle and faced the owner of the stern voice. The Santa Claus from the parade stood directly behind him, glaring daggers at Mark over his wire-rimmed glasses, arms crossed over his bellyful of jelly under the jolly red suit. Janelle's blond-haired cousin, Derek, stood beside him with a similar expression of hostility.
Mark swiveled his head toward Janelle. "Santa's your grandfather?"
---