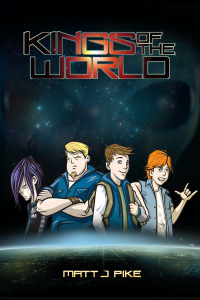 The galaxy is on the brink of war and only four dysfunctional, hormone-driven teenagers from Earth stand in its way. God help us all.
It didn't take Cooper long to come to the conclusion that space sucks. It seems everyone there despises humans, everything's too far away and the travel makes you heave. Worse still, Cooper's stuck there with his best mate and two former classmates who want to beat the crap out of him.
And people, well, alien people are trying to kill them. Can Cooper and his inept sidekicks save the galaxy? Or are we all doomed?
Kings of the World, the young adult science fiction comedy by author Matt J. Pike, is available through Amazon.com, Smashwords,  and Amazon UK.

Part of the proceeds from each sale go to finding a cure for Rett Syndrome.
Don't forget, you can cast your vote for trailer of the month on June 29, 2013 at 5 p.m. Pacific time.
---