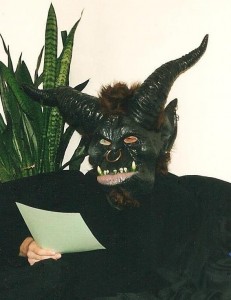 The flash fiction challenge is probably my favorite feature here at Indies Unlimited. Each Saturday morning, we post an invitation – open to anyone – to write a story in 250 words or less based on a photograph and written prompt . Entrants have four days to get their story submitted.The contest is free, and voting gets good exposure for all the qualified entrants. The story voted reader favorite receives its own spotlight post and inclusion in the anthology at year-end. But you probably already know this.
The Indies Unlimited 2012 Flash Fiction Anthology is a big hit. We gave away lots of free copies, and it's priced at only 99 cents in hopes of gaining new readers for the winning authors. So why don't more people enter?
"I only want to enter if I think I can win. I'll wait to see who else submits a story and then maybe I'll give it a shot."
I've got two words for that: SAY WHAT?!
I'm going to tell you a secret. I know someone who enters that contest each and every week knowing the entry will NOT win. You heard me correctly. Not only does that person know the story won't win, that person sabotages the entry to make certain of it. "How is that possible?" you ask. Well, the contest rules state "250 words or less," and each week this person's entry exceeds that number by at least five or as many as fifty words. Why in blazes would someone do that? you ask. First off, please tell me you really didn't just say "why in blazes." Second, how about because that person loves to write?
This person…this Secret Scribe, Anonymous Author, Private Penman, or whatever you'd like to call him/her – uses a different name each week, but the underlying theme of the story is always the same. The challenge is three-fold: write a story people will want to vote for but can't, maintain a secret identity, and publish a collection of themed flash fiction stories at the end of a year. One story per week – 52 stories, 52 photographs, credits, etc. – that adds up to over 100 pages. So, about fifteen minutes a week gets the Secret Scribe his/her own book. Not too shabby.
Yes, I've given permission to the Secret Scribe, as well as a number of other people, to use my photographs in conjunction with their stories as long as I'm properly credited. All anyone has to do is ask. So, I now have three questions for you. They're actually dares, if you will.
#1 – If you're not entering the flash fiction challenge – WHY NOT? Are you telling me you don't have 10-15 minutes a week?
#2 – Can you guess which entries belongs to the Secret Scribe?
#3 – Can you guess what the Secret Scribe's theme is?
Don't forget to check out the flash fiction challenge this coming Saturday. You never know, ten minutes and a little creativity might yield you the week's winning story. Or it may start you on your own quest for a collection. Either way, that makes you a winner, doesn't it?