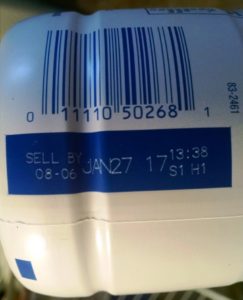 The other day an indie author asked for my opinion with this series of questions: "How long is it reasonable for an indie author to keep marketing the same title and expect results? Is there an expiration time for titles in general… even trad published ones? What's the data?"
As often happens, my first inclination was to respond, of course not, don't be silly. As Konrath points out, an eBook is forever. There are millions, billions, or trillions of people in the world (I'm not going to look it up, but it's a bunch, and this is the only data I'm going to provide.) No matter how many copies of a book have been sold, it is only to a miniscule portion of your target audience. Even if we exclude those who don't or can't read, don't understand English, or are readers who never touch your genre, by the time an author runs out of potential customers they'll have made enough to buy Mitt Romney or maybe even Bill Gates several times over.
But I didn't want to get slapped for calling her silly, not even a virtual slap, so I took the easy way out, and answered a question with a question. "Why are you wondering?"
It turns out she was pondering what advice she could give one of her peers who was concerned with a decline in sales. Rather than attempt to answer specifically for her friend, because every situation is different, I'm going to throw out my thoughts on the original questions. But first, a few words on the drop in sales.
It takes three to make a pattern and I'm now into the third year of closely observing the Indie book world. The grumblings about low sales start about now and reaches its apex in October or November. With all the talk about books that are good "Summer Reads" or an "excellent choice for the beach," the reality seems to be that Indie book sales drop in the summer, start improving when the cold and snow of winter come, then really start to climb post-Christmas because nature abhors a vacuum, and all those new, empty ereaders create a vacuum that needs to be filled. (One possible exception to this is the Young Adult genre, for the obvious reasons.)
Back to the original questions, it's no secret that there is an expiration date on traditionally published books, at least paper books, due to limited shelf space. If the book doesn't find its audience, it is pulled quickly and is as good as dead. If it does well, then it gets a reprieve, as long as it continues selling. Some of these are obvious. Many of them those books you were assigned to read in school (To Kill a Mockingbird, Hemingway, Dickens, etc). But I did a quick perusal of Amazon and also found Erica Jong's Fear of Flying (first released forty years ago) and Carrie, Stephen King's debut released the same year, both available in what appear to be current editions on Amazon. I doubt they're popular selections for high school literature teachers' reading lists.
However, any marketing endeavor is going to reach a point of diminishing returns. If an author has a single book, unless they're finding new places with a lot of readers in their target audience who have never heard of their book, promotional efforts aren't going to work as well, because many of the audience have either already read your book or decided it wasn't for them. If you've written multiple books in a single series, the effect might be the same, as essentially you're promoting the first book in the series to new readers as you inform existing readers of the new book.
Common wisdom says the best way to increase your sales is to write another book. This makes sense to me. People like new and shiny things. But if a reader enjoys your latest, there is a good chance they'll go looking for your backlist, so a new book increases sales of all your books. If you've written several books in a series, maybe a standalone or starting a new series is the best bet. A reader who wasn't interested in your series might give a different book a try and, if they like it, reconsider your series with the possibility they'll end up buying the entire series.
Based on the anecdotal evidence I see on various author blogs and such, those with multiple books see the sales of all books increase with a new release, then sales settle down to a consistent rate with unpredictable ups and downs, one book doing well for a few months and then another suddenly selling well for no apparent reason. Back to the original questions. Does your book have a sell by date? Of course not, Konrath is right, an ebook is forever. But if your book has a period where it does well expect sales to ebb and flow, with your long term sales numbers being much lower than they were during their sales peak. They might hit another nice peak if something having nothing to do with your marketing the books happens (a movie made from your book would be nice, but another book is more in your control.) I think the common wisdom is right. After the initial push, concentrate on the next book.