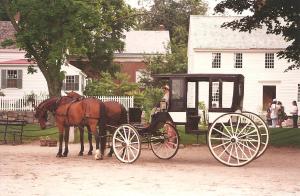 Seth and Amos and I saw the fancy rig waiting outside as we walked up. The driver sat there stoically, waiting for his passenger to return.
There was no mistaking it. This was the Amish mafia. Somebody must've failed to show up to the midnight barn raising.
Now there would be a shunning going on – a brutal shunning, indeed. To our everlasting shame, we averted our eyes and quickly walked by.
Yet, we were not to escape unscathed. As we turned the corner, we saw the carriage start our way. The driver's eyes bore at us. Just when it seemed there was no escape…
In 250 words or less, tell us a story incorporating the elements in the picture. The 250 word limit will be strictly enforced.
Please keep language and subject matter to a PG-13 level.
Use the comment section below to submit your entry. Entries will be accepted until Tuesday at 5:00 PM Pacific Time.
On Wednesday morning, we will open voting to the public with an online poll for the best writing entry accompanying the photo. Voting will be open until 5:00 PM Thursday.
On Friday morning, the winner will be recognized as we post the winning entry along with the picture as a feature. Best of luck to you all in your writing!
Entries only in the comment section. Other comments will be deleted. See HERE for additional information and terms.