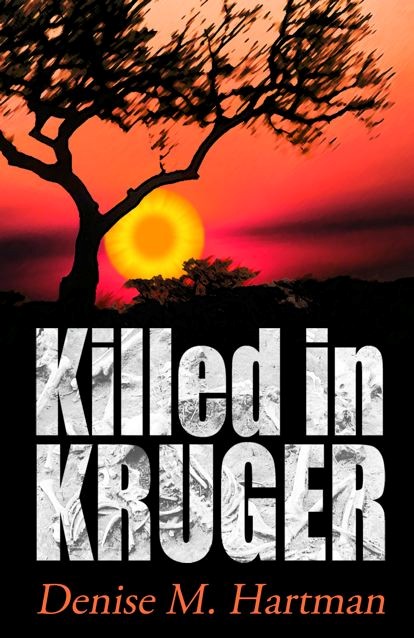 Killed in Kruger
by Denise M. Hartman
Genre: Suspense
Word count: 93, 212
Tabitha Krans arrives in South Africa's Kruger National Park to discover the veldt of seems to have swallowed up Uncle Phillip. Tabitha's afraid her writing career has disappeared along with him and dire things lie in wait for her as her mother had predicted. Uncle Phillip's connections are her only link to travel writing and his photos are crucial. When he turns up dead, she wants the truth. Dead men don't speak but photos Phillip took evoke strange reactions in park authorities. Her nosing around turns up suspicions of human trafficking, poaching and covert investigations but not many answers. South Africa holds dark secrets and deep beauty but it doesn't want to give Tabitha the truth. She keeps prying until someone believes she's a threat in need of elimination.
This book is available from Amazon, Smashwords, and Barnes & Noble.
Denise, how did you come up with the title for your book? Does it have any special meaning?
Killed in Kruger came from the place. Kruger National Park is really another character in the book so that was natural and the idea of suspense and high stakes seemed to work into it. I also like alliteration, so it was nice it worked out this time.
Who was your favorite character and why?
It's hard to choose between the main character, Tabitha Krans, and her found friend Daniel Kangala. They come from two different worlds and perspectives, hers from the USA, and his as a local in South Africa, but they share this moment in time looking for the truth and encountering danger.
Does your book have any underlying theme, message, or moral?
The deeper I went with my characters the more I felt the theme though I'd say it is subtle. It's about learning to be yourself and be content with where you are even if you want more from life and you're on a journey.
What would/could a reader or reviewer say about this book that shows they "get" you as an author?
I hope a reader or reviewer would notice that I had a respect for the place, both the park and the country of South Africa, but that I made an attempt not to judge it. Also if they picked up on the sarcasm in Tabitha, I'd feel like they got me as well as the character.
Give us an excerpted quote from your favorite review of this book:
Denise's book has it all, both the murder and the mystery, and she blends them beautifully with vivid descriptions of the African countryside…Highly recommended.
Where can people learn more about your writing?
http://denisemhartman.com