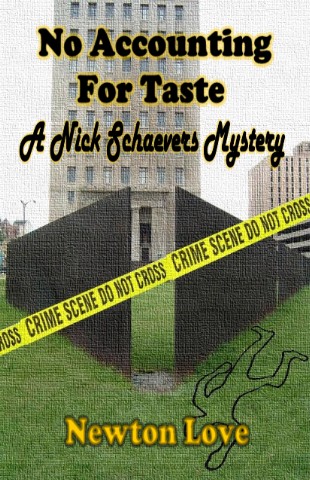 Today we have a sneak peek from the mystery novel by author Newton Love: No Accounting for Taste.
When Nick Schaevers takes the case, his client is already in prison, convicted of murdering a business partner. If ever there was a need for St. Jude-the Patron Saint of desperate situations-to intercede, this was it. To discover who framed his client, Nick must break laws, both statute and spiritual, and wager his life in a dangerous bet before he is through.  In the course of the investigation, Nick meets Wendy Crooks, who may be the soul-mate he had almost given up on meeting. The psychological strain of his life and work circumstances crossed with a new woman causes him to grow but develop new neurosis, too.

No Accounting for Taste is available from Amazon, Barnes & Noble, and Amazon UK.
And now, an excerpt from No Accounting for Taste…
I misjudged the height of fence, and ground my groin going over. Sprinting down the dark alley, I prayed that my ankles wouldn't give out in an unseen pothole.
My original plan was to outrun them, but I saw something that changed my mind. I jumped behind one of two big dumpsters. I put my feet in the left loading hole that trash trucks use to lift the bin. I hoped I wouldn't be the top layer of tomorrow's refuse.
Hanging on the back of the grimy bin, I hyperventilated in the stench of restaurant remnants. Pumped full of stinky oxygen, I switched to slow, deep breathing. I craved air, but less than I craved life.
The sound of rapid footfalls approaching was barely audible over the beat coming from the salsa club next door. My pursuers vaulted the fence, but only one continued down the alley.
Fearing what I expected was next, I released my air and held my lungs empty.
The dumpster next to me crashed against the brick backside of Llewelyn's Pub. I begged God to save my miserable ass and then clenched my jaw.
It felt as if a freight train hit my big steel can. It and I flew into the wall. I fought the urge to gasp at the painful impact with the bricks. Man, that brute could kick a can. If I made a sound, I knew he would kick mine, but good.
Fortunately the lid of the right half of the dumpster swung, smacking the bricks with a loud metallic sound.
It must have made enough noise to cover me clinging to the backside of the grimy can and he bought it. Relief washed over me as the sound of rapid footfalls faded away.
Sore, tired, and gasping for breath, I extracted myself from my narrow hiding place. When I got to the fence, I looked over my shoulder at the dumpster. A shiver ran down my spine. It was one of the scenes that Frank's ghost had shown me in the dream.
In spite of the pain, I attempted to walk casually. I went back to the front of Llewelyn's, away from my pursuers. Blending into the evening foot traffic of the Central West End, I made it to my Celica, slipped in and started the car.
As I drove away from my personal danger in the safe and upscale residential neighborhood with nice restaurants, I took inventory of my health. I had several sore ribs, a wrecked shoulder, and a cut right palm. I grabbed a tee-shirt from the back seat, and wrapped it around my hand.
I was lucky; I'd avoided death, dismemberment, or good old-fashioned beating from my pursuers. I'm not sure how many of those they had planned. I was glad that I didn't find out.
I joined the other commuters returning home from enough excitement for one night. Most of them didn't have a bleeding hand wrapped in an old tee-shirt.
---