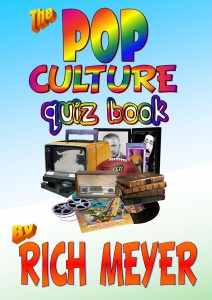 This exciting new quiz book contains 500 questions (and answers) on nearly every subject: Sports, music, radio, books, comics, TV, cartoons, movies, politics, history, geography … pretty much anything and everything. You'll find hours of family-friendly fun in the Pop Culture Quiz Book!
The Pop Culture Quiz Book, the new book by author Rich Meyer, is available through Amazon.com and Amazon UK.
---

Don't forget, you can cast your vote for trailer of the month on July 27, 2013 at 5 p.m. Pacific time.
---