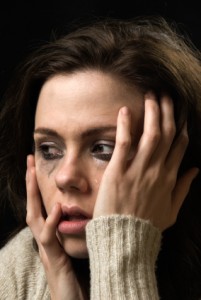 "Why does she put up with it? Why doesn't she just leave?"
You've all heard it. Maybe you've even said it. If you have, consider yourself one of the lucky ones. You never needed to ask yourself that question – or you got out in time. In both cases those that say this often add, "I have no sympathy for her. She just needs to get some backbone."
If only it were that easy.
There are many reasons women are unable, or sometimes unwilling, to leave an abusive spouse. A few of these I know firsthand via my family of origin. I'll begin with those.
Every now and then we hear or read in the news of a murder suicide. A man has killed his wife and children and then killed himself. That would have been my family if my mother had tried to leave. The attitude that brings this on is "If I can't have you, nobody can. And if I kill you I have to kill the kids, too, as I won't let anyone else have them either. And I can't go to jail, so I'll kill myself." These men feel justified.
Sometimes, especially if there are no children involved, a man kills his partner and does not kill himself. Usually this happens after she 'gets away', or tries to. She leaves, gets the restraining order, hides, or goes to a shelter, (if she is fortunate enough to live in a community with a shelter). All to no avail. He doesn't care about the restraining order, the law is an ass, she belongs to him, she betrayed him, and so she deserves to die. If she survives the attempt, he may even try again after he is out of jail.
Another factor is often financial, more so if children are involved. The woman knows that getting support from her abuser, even for the kids, will be a life-long battle. The courts may decree support but remember: abuse is about control. And he can and will control the money. Withholding support or making sure there are many strings attached to it allows him, once more, to control his woman. Even if he does obey the support order, her financial status will be far below what it was with him. Often she believes that the kids are better off if she stays. At least they won't have to live in poverty. Remember, one category of abuse is financial and this can occur outside as well as within the relationship. By the time this point is reached, she has often lost her career as a result of the systematic undermining of her work, or has given up work to 'look after the home' at his insistence, and will have difficulty getting a job with a wage that will adequately support herself and her children. Yes, I am aware that this is not always the case, but today we are dealing with 'why women stay'.
But before relationships even get to this dire point, much has happened behind the scenes that outsiders never get to see. It is the main reason for a woman's inability to get out from under, even if her life and that of her children are not in actual danger.
In my last post I talked about the common cycle of abuse and remorse. When they begin dating, her beau is so attentive and complimentary. (Only later will she understand that control issues were in play right from the beginning.) She is flattered by his 'love' and wants to make him happy, to please him. Slowly she gives up more and more: her friends, her work, her nights out with the girls, even shopping for groceries. But the more she gives up, the more he demands. She becomes increasingly isolated. And don't forget the results of shame. She can't go to her family. If she does, often they try to counsel her to try harder, to find ways to appease his anger. They do not see or hear the constant put-downs, the accusations of infidelity, the name calling, the insults to her intelligence and integrity.
Gradually the self-esteem she had when they met is eroded away. She comes to believe there must be some truth in what he tells her, that she is somehow flawed and maybe even needs him or she won't be able to survive in an outside world that needs skills and strength she obviously must not have.
Sometimes she gets it right and he acts lovingly – until she 'blows it' again. Or he sees that she is ready to leave and acts remorsefully, tells her he needs her and that he'll reform. The remorse phase lasts just long enough for her to become hopeful. And when the abuse resumes, she wonders why she didn't see it, why she is so stupid. Maybe she deserves it after all. In the end she is so worn down that she no longer has the strength, the belief in herself, or the means to leave.
If you have been abused and got away, give yourself a huge pat on the back. But please save some compassion for your less fortunate and less courageous sisters. Few women are as strong as you.