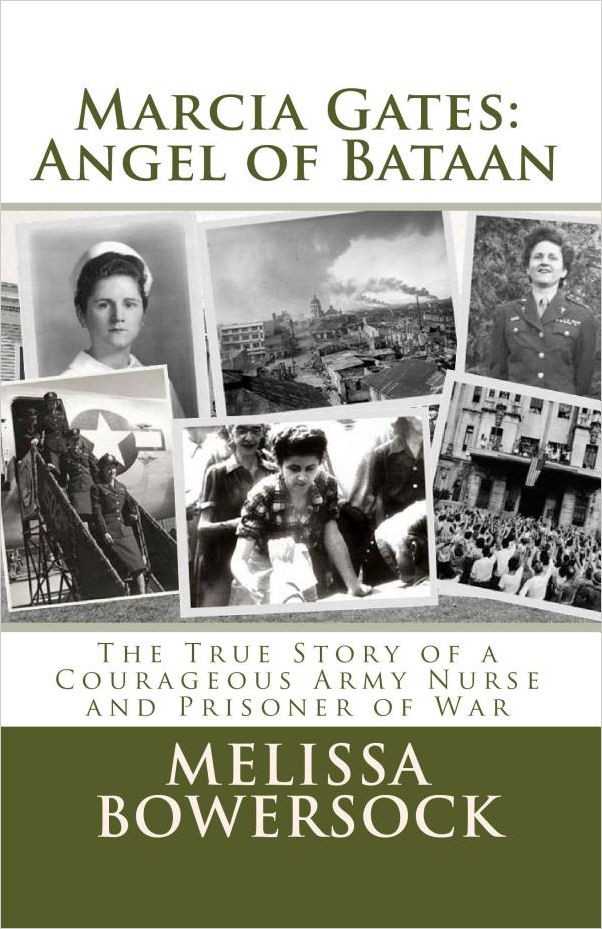 Marcia Gates: Angel of Bataan
by Melissa Bowersock
Genre: NF Biography
Word count: 36,168
Marcia L. Gates was an Army nurse and prisoner of war during WWII. As an "Angel of Bataan," she spent three years in a Japanese internment camp in the Philippines. This is her award-winning story, told through her letters and the newspaper clippings, photos and letters collected by her mother.
This book is available from Amazon, Smashwords, and Barnes & Noble.
Melissa, how did you come up with the title for your book? Does it have any special meaning? 
I toyed with the idea of a more literary title, but decided on this very practical one instead. It immediately gives the reader the gist of the book and anyone who is familiar with WWII or the Pacific Theater will understand the reference to Bataan.
What was the hardest part of this book to write/research?
The research was the easy part! My grandmother's scrapbooks had letters, newspaper clippings, telegrams and photos of the time and the events. The hardest part was telling the story truthfully, neither diminishing nor enhancing the action as I might in a fiction story.
Does your book have any underlying theme, message, or moral? 
The main message is strength. My aunt's time as a Japanese prisoner-of-war was more horrific than anything most of us face today, yet she and her sister nurses did what was necessary to survive. In our modern age of comfort and instant gratification, that kind of perseverance is often lacking.
What would/could a reader or reviewer say about this book that shows they "get" you as an author? 
I think most readers would not understand the pressure of writing a book like this—not just a true story, but a family story. If readers understood that I wrote with "ghosts" looking over my shoulder, reading every word, they might realize what a labor of love this was.
Give us an excerpted quote from your favorite review of this book: 
I couldn't put it down. Nurse Gates' amazing valor and her mother's drive reminds us to never forget the human dimension of combat. … Inspirational.
Where can people learn more about your writing?
http://www.newmoonrising.net