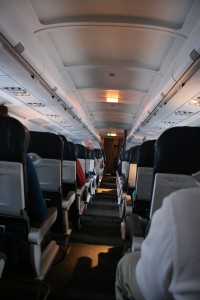 I never liked flying. The pressure changes always gave me headaches and the way the turbulence buffeted the plane jangled my nerves. It was a little better on this flight. At first.
When I returned from the lavatory, I noticed a number of seats were empty that had not been before.
I sat down and resumed reading my book. When I looked up, more people were gone.
I nudged the shoulder of the man in the seat ahead of me and got no response. He was ice cold.
In 250 words or less, tell us a story incorporating the elements in the picture. The 250 word limit will be strictly enforced.
Please keep language and subject matter to a PG-13 level.
Use the comment section below to submit your entry. Entries will be accepted until Tuesday at 5:00 PM Pacific Time.
On Wednesday morning, we will open voting to the public with an online poll for the best writing entry accompanying the photo. Voting will be open until 5:00 PM Thursday.
On Friday morning, the winner will be recognized as we post the winning entry along with the picture as a feature. Best of luck to you all in your writing!
Entries only in the comment section. Other comments will be deleted. See HERE for additional information and terms.