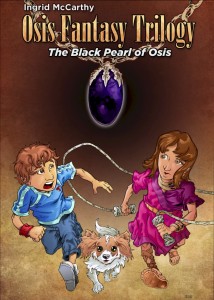 When 12-year old Jonathan walks into his Aunt Josie's studio, the moon hiccoughs and jumps a foot off its path, unleashing a celestial force that propels him into an ancient kingdom. There, he learns that he and the king's daughter, Magenta, are destined to find and destroy a sinister force: A magnificent black pearl – touch it and you will turn evil! Thus, a remarkable odyssey begins. The Osis Fantasy Trilogy is a tale of mystery and surprise, betrayal and revenge, temptation and disappointments, jealousy and greed, but also a tale of growing wiser, of friendship, loyalty, valor and forgiveness.
The Osis Fantasy Trilogy, the children's fantasy books by author Ingrid McCarthy, is available through Amazon.com and Amazon UK.

Don't forget, you can cast your vote for trailer of the month on July 27, 2013 at 5 p.m. Pacific time.
---