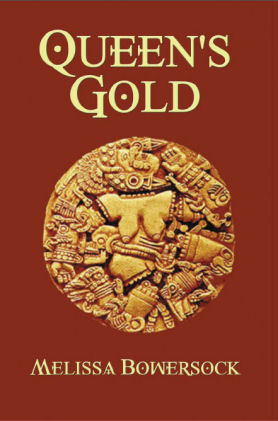 Queen's Gold
by Melissa Bowersock
Genre: action/adventure
Word count: 63,300
Hal Thompson is a pretty ordinary guy. A widower who owns his own small business, he's doing his best to raise his two nearly adult children alone. When they convince him to undergo a hypnotic past-life regression, he is unimpressed that his "memories" reveal the hiding place of ancient Aztec gold. Other people, however, take it very seriously and when his family is threatened, he is forced to plunge into the jungles of Mexico, battling treacherous terrain, lethal wildlife and the haunting feeling of a love that spans centuries. Can he find the gold before it claims more lives? Or will he lose the love of his life … again?
This book is available from Amazon, Smashwords, and Barnes & Noble.
Melissa, how did you come up with the title for your book? Does it have any special meaning?
The title refers to the gold ornaments worn by the Aztec queen that the protagonist finds and hides during a past-life regression.
Who was your favorite character and why?
Hal Thompson, the main character, is an all-around nice guy. He's a little uptight, not crazy about wild goose chases, but he does what needs to be done to protect his family, and he actually surprises himself when he opens up to a new/old love.
Does your book have any underlying theme, message, or moral?
Although the majority of the book is simply a wild ride, there is a theme of strong family bonds and love that lives for centuries.
What would/could a reader or reviewer say about this book that shows they "get" you as an author? 
One thing I enjoy seeing in my characters is growth. If a reader recognizes that Hal has pushed himself into the unknown and has come out transformed, I've done my job.
Give us an excerpted quote from your favorite review of this book:
A word of warning here – don't start this book at bedtime – you are likely to turn those pages until the morning rooster crows. –Thelma Freedman
Where can people learn more about your writing? 
http://www.newmoonrising.net