Wouldn't you like to give your book added appeal? Well, how about creating an audiobook to accompany it? According to my reliable sources, the DIY audiobooks offered as a freebie included with the Kindle book are popular. It's a sort of loss-leader and attention grabber at the same time.
Sounds easy enough, doesn't it? Well, it is easier if you live across the pond, because Audible.com (ACX), a subsidiary of Amazon, is used by many American authors. For us folk in the UK, and elsewhere in the world, it is a trifle more difficult because we can't use ACX.
Audible UK is the only alternative and at the moment they are very new and only interested in signing publishers/studios with a large stable of material (a regular stream of audiobooks being uploaded every month) – i.e. not for us indies. There are rumours that ACX (Audible.com) will be opening up to non-US folk in 2013/4. I look forward to that.
Don't despair if you can't access Audible. There are several ways you too can produce a decent quality audiobook to accompany your Kindle book. There is a variety of software available to those of you who feel you can go it alone. GarageBand offered by iTunes is recommended by many authors, and new kid on the block Propaganda seems promising.
You can, like author Dannye Williamson, do it yourself. She produced a five CD audio book – she bought the software and recorded it herself. The CDs won a Bronze Award in Foreword Magazine's 2004 Book of the Year Awards – all proving that you don't need Samuel Jackson to read your book, or a recording studio.
If, like most of us authors, you have the smallest of budgets then what can you use? The answer is Audacity software! You can download this for free. It is a good way to test the waters and see if you want to really produce an audiobook.
It is inadvisable to start recording, sitting in your office on your laptop because your final effort will be very poor quality, and you'll be able to hear the chattering in the back office, along with the sound of the water cooler gurgling.
Make sure you invest in a good quality condenser directional microphone and lots of bedding/cushions to create a nice 'dead' space in the bedroom/office. If you are doing it at home and don't have a soundproof room, try recording at night when there are fewer noises.
I checked with several successful authors who have used this software, and the responses were the same–it is ideal, but requires a lot of time and effort. Still fancy a go? Right, let's give you a quick basic beginner's guide of what to do.
First, log onto Audacity and download the software: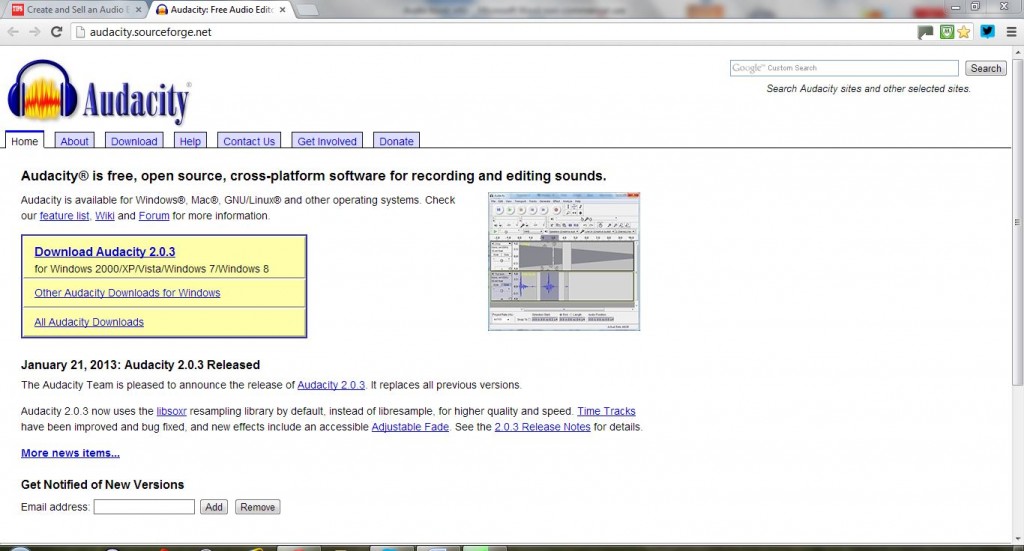 Recording is easy enough. You press the red record button and it begins recording your voice.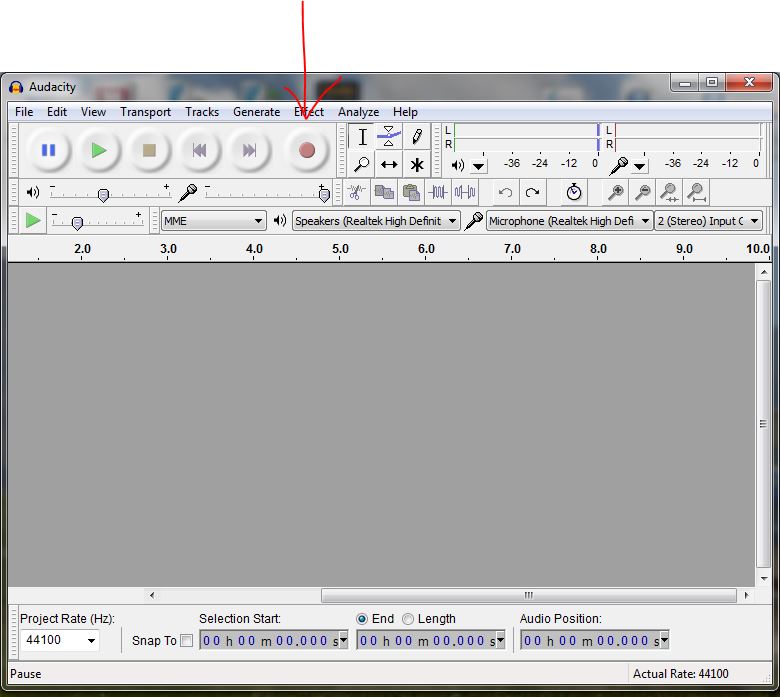 Blue flashes shoot across the screen showing it is recording your voice: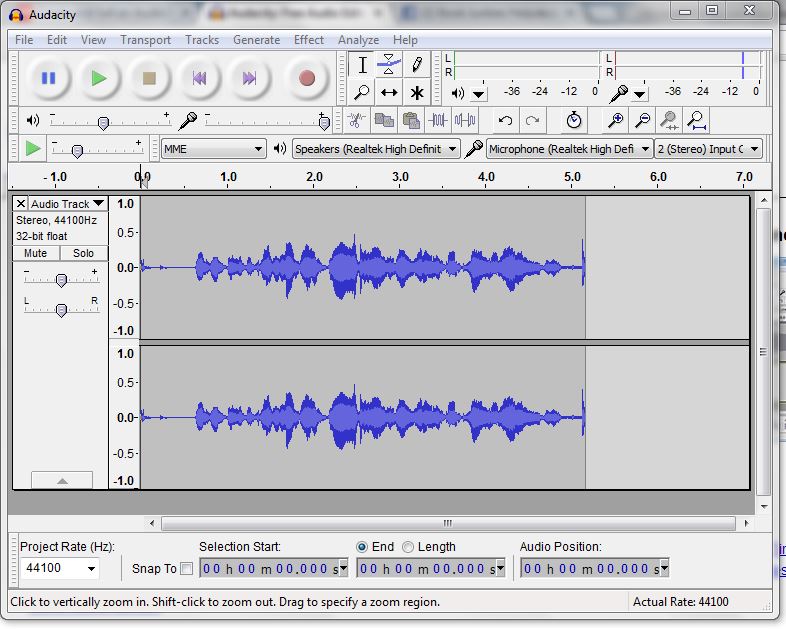 To stop or end the recording, press the stop button as shown on the panel below:

Once you have recorded your story or chapter, you'll be able to edit it, much like an editor would in a recording studio. By using the magnifying icon, you'll be able to zoom in on the screen to ensure you work only on the pieces that need removing. You can extract noises, like coughs or 'erms'. It is a question of trial and error at this stage. Play about a little with a short passage or story to see what you can create.
To edit your recording, highlight the area you want to work on then use any of the tools available. If you hover over each tool you'll discover what it is. You can then remove sections by using the scissors icon, zoom into the screen to locate the section you want to work on precisely, by clicking the magnifying glass, and so on.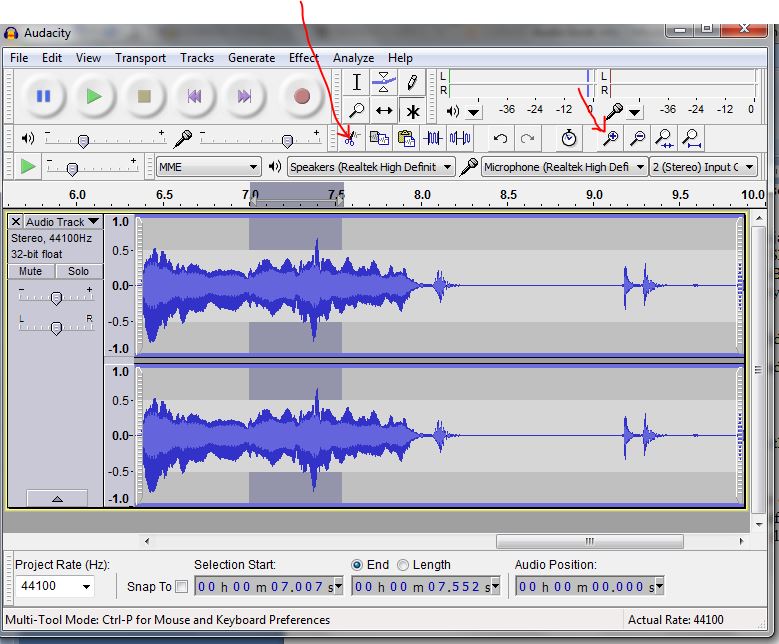 You can even add a musical introduction to your story too. (That is more complicated and would require a more intermediate tutorial.)
The box at the bottom left of the screen allows you to adjust the levels and improve the quality of the audio. You can use the drop down arrow so if you have a low level quality recording that you might have made through your phone, for example, you can increase the level to the recommended 44100.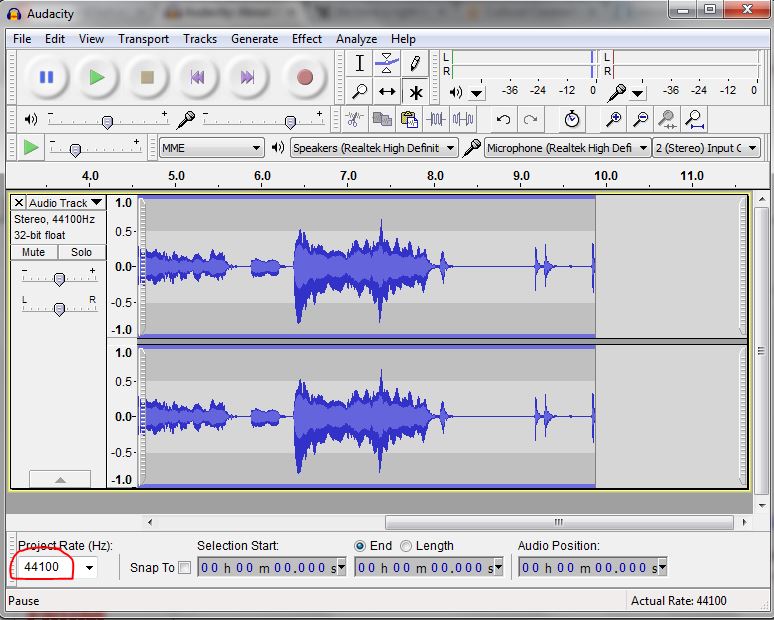 Once you are happy with the results, you will want to save your project. Audacity lets you create an mp3 album (where each chapter is saved as a separate track). This can be saved as a zip file and embedded on your website. Anyone who buys the Kindle version of the book gets access to the URL where the audiobook is embedded and can download and unzip the mp3 and then play it on their device of choice – you can even copy it on to your Kindle and listen there.
To create your mp3 file. click on File at the top of the Audacity menu: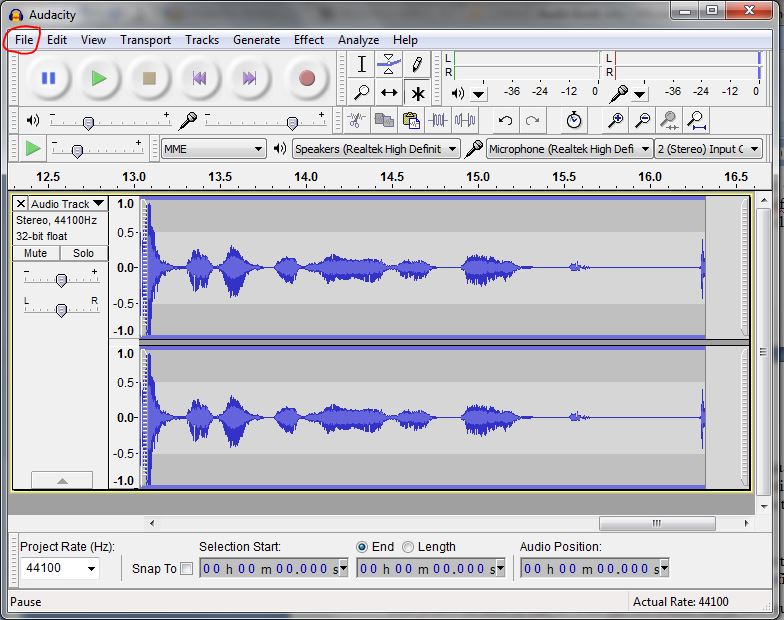 A dropdown menu will appear like this one: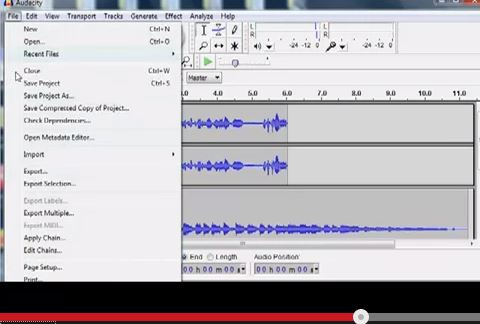 Choose Export and a new screen called Edit Metadata will appear. You can now enter details about your book. Note I added a copyright tag in the left-hand column: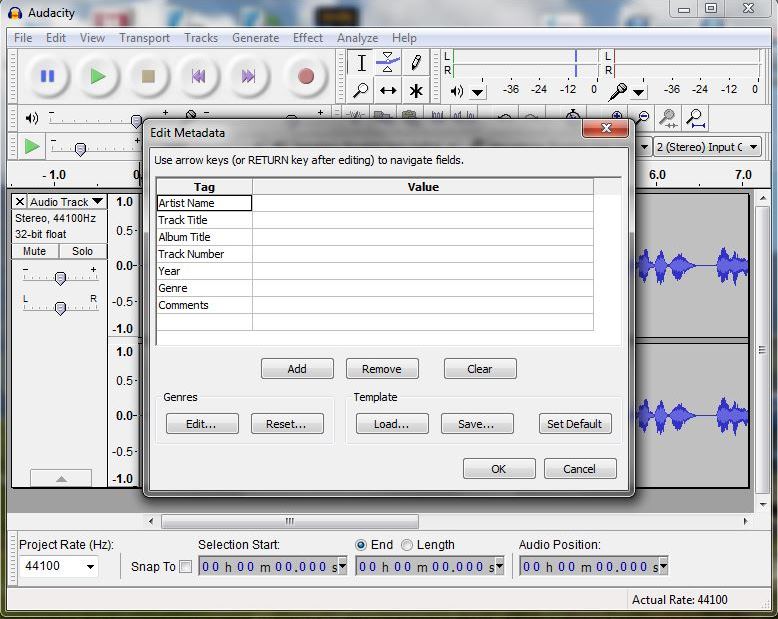 Fill in the Metadata. I put my website as the Artist's Name. Track Title became my chapter heading; Album Title is the book title: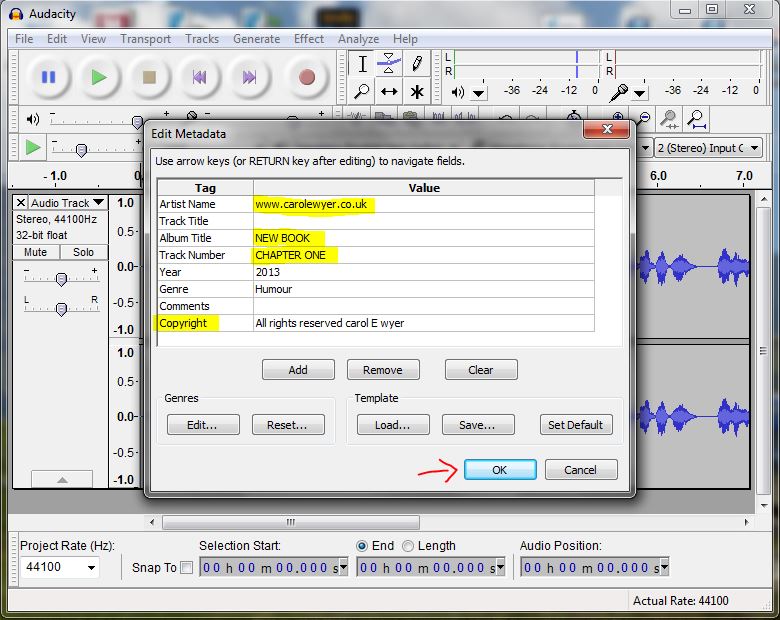 Now click on OK and you should see a screen similar to the screen below. Ensure you save your project as an mp3 file if your intention is to put this audio up on the Web. You can access by clicking the dropdown arrow where it says Save as Type.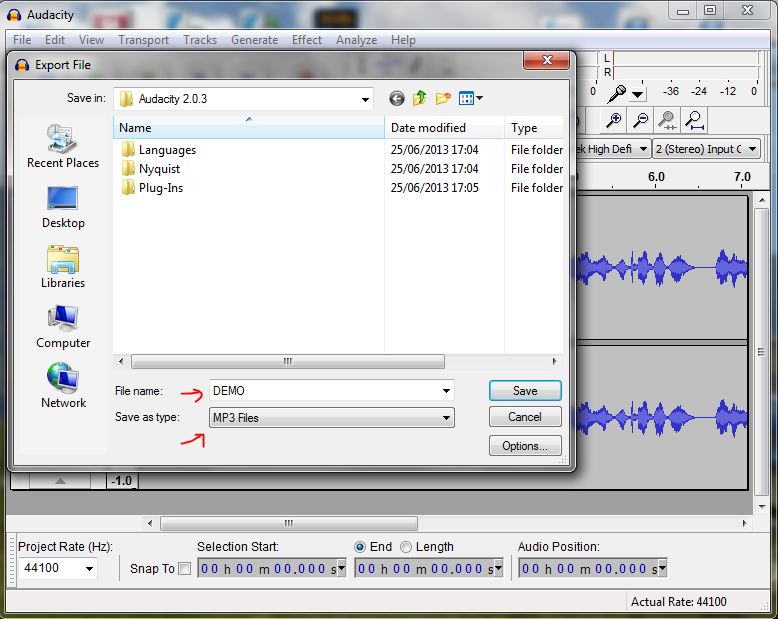 You will now be told you need to download a file to create the MP3: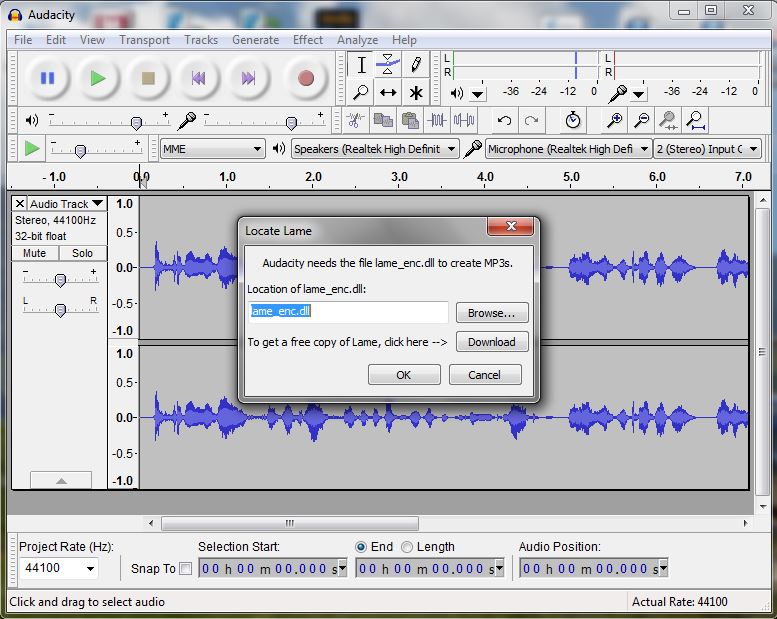 Click the Download button and you'll be directed to Audacity and told what to do next. It isn't too difficult. You download the LAME software, run the programme: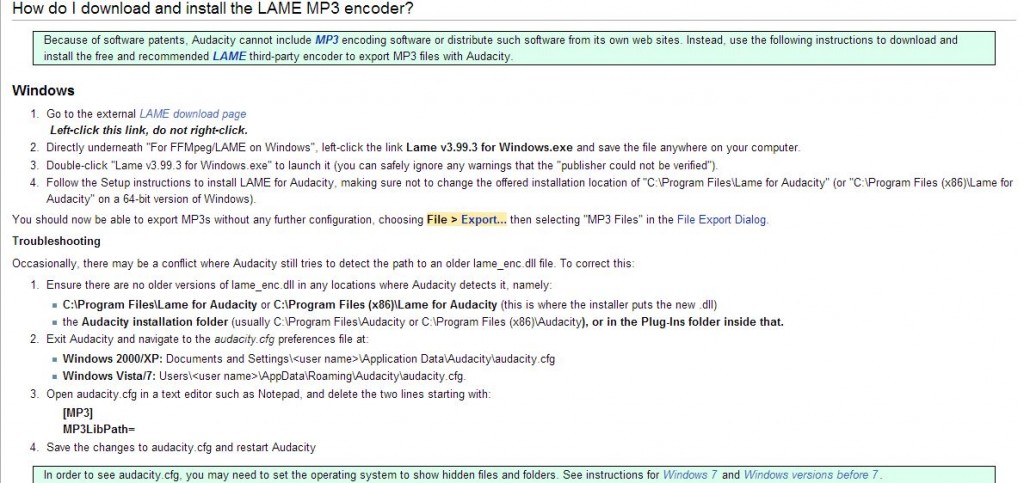 You can now click on Export again and your track will be saved in the Audacity file created in Downloads.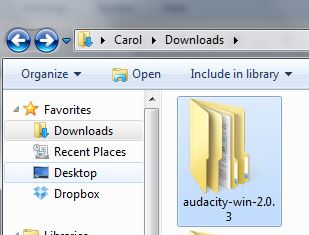 Opening the file and clicking on your track will allow you to listen to it, or you can embed it in your website.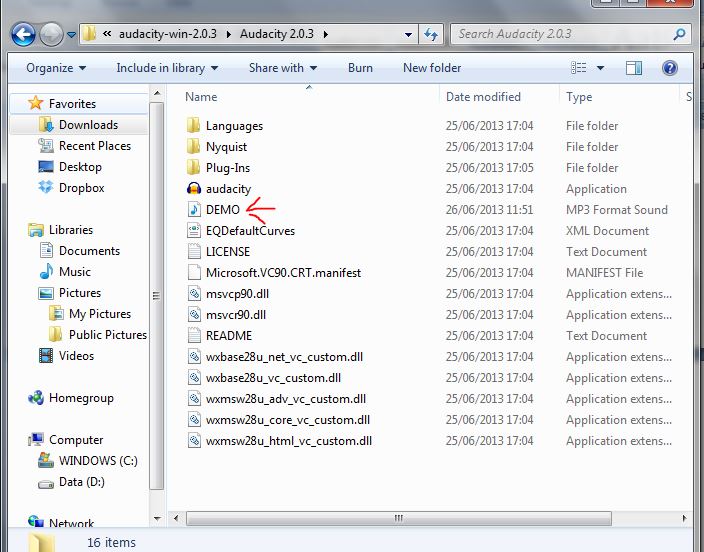 Remember, this is a very rough and ready beginner's guide. It's just to get you started on making an audiobook. In short, there is a lot to learn, but with patience and using the tutorials that are available on the net, you should be able to produce a professional audiobook.
You can get much more helpful information and tutorials on how to use Audacity by Googling Audacity tutorials or clicking http://audacity.sourceforge.net/manual-1.2/tutorials.html
I'd like to throw in my two-penny worth at this point and say, if you intend having a go at making an audiobook, then start with a short story or a novella. Audiobooks are hard work – each hour of finished recording (1200 words) takes about 2.25 hours of reading (errors and retakes) and then post-recording processing and editing takes about 5 more hours. So you can imagine for a 70,000 word book you are looking at the best part of 2 man-weeks of solid work.
That's it for now. Have fun and enjoy messing about with Audacity. I gave up on my novel and recorded myself singing a song instead. Be very grateful I didn't post that here.