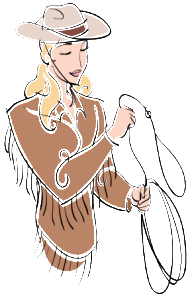 We have a great deal to cover today so I'm going to jump straight in. First and foremost, an AWOL Muse cannot be wrangled. Neither whips nor carrots will work. An AWOL Muse must be wooed.
But how do you woo a Muse?
There is no simple answer to that question because each Muse is different. Nonetheless, there is a way to prevent your Muse from leaving in the first place, but it involves knowing and listening to your Muse.
Does your Muse have a strong work ethic? Or is it flighty and easily distracted?
If your Muse is easily distracted then it may have gone AWOL because it was bored. Yes, I know, that is an awful thing to say to an author, but sometimes we have to face facts – Muses get bored just like readers. If your Muse is bored with what it is doing then perhaps that is an indication that readers might find the prose boring too. If this is the case then a rethink is the only thing that will lure your Muse back into the fold.
However what if your Muse is not the flighty type? Why would it suddenly go AWOL?
The first thing you have to understand is that 'sudden' is like 'overnight success', a misnomer. It is more than possible that your Muse has been trying to tell you that something is wrong for quite some time… but you have not been listening.
All of us know when our Muse is happy because the prose almost leaps from our fingers. Sadly, most of us are far less perceptive when it comes to an unhappy Muse. We ignore the slow downs, the reluctance to work, the procrastination, and keep cracking the whip until one day we wake to find our Muse has gone, and we have writer's block.
Yet if those slow downs were symptoms of an unhappy Muse, what was it unhappy about?
The thing you must understand is that Muses are like dogs. They sense things we are incapable of seeing, but they cannot warn us about them in words. Instead they growl, and clamp their teeth in our clothing. They plant their feet, and try to drag us backwards, away from the precipice. And if we ignore them long enough they will eventually run away.
My own Muse used to run away at least once a year, until I finally learned to recognize the danger signs. Now when I feel the first, chilling symptoms, I stop writing and start hunting for the problem I know must be there somewhere. Sometimes it turns out to be a gaping hole in the plot, or the realization that my protagonist is acting completely out of character. At other times it can be as simple as not seeing the obvious.
Once I find whatever is wrong, and fix it, my Muse stops trying to bite my bum, and everything is fine once more. So listening to the subtle messages coming from your Muse really does work… if you are a pantster. Plotters may have to use different techniques.
For your assignment this week, I'd like you to write a paragraph – a short paragraph – on how you stop your Muse from going AWOL. Alternatively you may discuss how you get it back once it has done a runner.
Class dismissed.