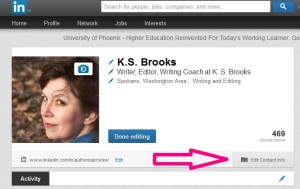 LinkedIn is a happening place. Rosanne Dingli explained why authors and businesspeople should be on LinkedIn. You can read her article here. Once you're on LinkedIn, there are a couple of things you can do to get better exposure. The method many people agree has the most impact is the "links" section.
To add (or spiffy up) your links, go to the profile section of your account. This will take you to the "edit" screen. In the image to the left, you can see at the very bottom right there is a tiny gray rolodex card next to the words "Edit Contact Info." This is where LinkedIn allows you to supply a maximum of three external links. Many people just put in their http address and leave it at that. But LinkedIn allows you to do something even better – actually describe where the link goes – so there isn't a bunch of ugly html sitting on your profile. Also, I like the fact that this gives people a clue what they're clicking.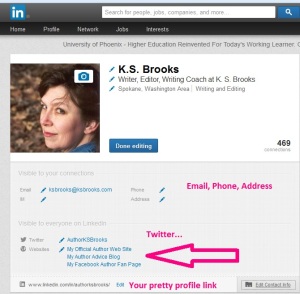 I'm going to take a break from this for a moment to let you know about some of the other things you can do from this page while you're there. You can put in other methods of contact if you're so inclined, but most importantly, this is where you will find your PRETTY profile link. This is the link you should be distributing whenever you list your social media links instead of the ugly one up in your navigational url window. Now, back to making your other links pretty.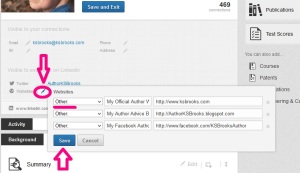 How exactly does one do this, you ask?  Hmmm…okay, I'll fess up. It's really quite easy. See the little blue pencil to the right of "Websites"? Well click on that and you will get a drop-down window with boxes allowing you to enter the information for three different websites.  That will bring up the screen to the left. Select "Other" from the drop-down menu on the left. That will allow you to customize the description of your web link in the center box. (If you use one of their preselected headings, you will not be able to customize how the link shows up on your profile.) Use all three if you can – that will get you the most exposure.  When you're done, click "Save".
I went ahead and updated my links to include my Amazon.com Author Central Page. I hardly write on my old blog anymore and I'd rather send people to where they can find my books! When you're done editing with that screen, just click the "Done Editing" button to the right of your gorgeous photo and you're done! Want to see what your profile looks like now? Just click on the teeny tiny pretty profile link as I showed you above and it will take you to what everyone else will see: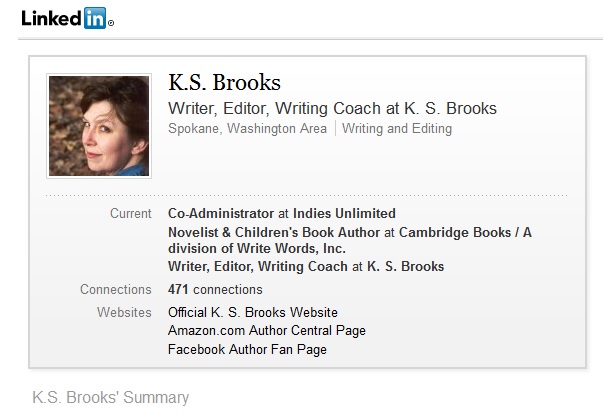 Glorious, isn't it? But don't stop there. Make sure to add everything you can to your profile – skills,  jobs, etc. – because this makes it easier for people to find you.
Now get to spiffying up your profiles – because tomorrow we're going to share them during a LinkedIn Love-fest!