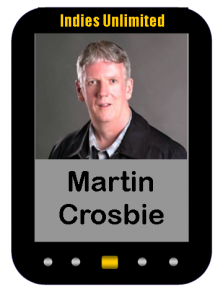 July 2013 was one of the slowest sales months I've had. I didn't sell very many books last month. In fact, when the final numbers are tallied, it may turn out to be my worst month ever. There are excuses, I mean reasons, and I'll get to those, but let me whine, I mean pontificate just a little while longer.
When I'm asked how many books I sell I like to say that I sell books every single day, and up until July that was almost always true. But, during the past month I had two days where the numbers on my sales reports did not change. Now, I realize I've been a very lucky guy and there are authors who haven't been as fortunate as I have, but I've kinda gotten used to a certain consistency, and last month it just wasn't there. For two days my sales dashboard remained dormant and no one downloaded any of my three books. As my author friends know, this also affects your rankings on Amazon. With each hour of non-sales, my rankings got farther and farther away from the coveted top 100, 1,000, 10,000 spots. My usual ranking for my most popular book, My Temporary Life, is in the 10,000 to 40,000 range but I watched as it fell all the way to the 80,000 mark. Fortunately, it didn't last, and the numbers started increasing after the short delay, and my rankings climbed back up.
Funnily enough, as all this was happening, or not-happening, I didn't really worry about it, and I'll tell you why. Yep, we're there-it's excuse time. You're probably thinking I'm going to mention that it's summer and eBook sales are slower in the summer. Wrong. I'm not going to use that one. I do agree sales are slower in the summer but I made it through last summer and did very well, thank you very much, and more importantly, I have colleagues who are having a very good summer in terms of finding new readers for their work. So, the summer excuse won't cut it. There is one other factor though.
Last month I did not actively promote my books. I ran a brief promotion discounting the price on My Name Is Hardly on July 29th but other than that I let them sell, or not sell, at their own natural pace. I also did very little blogging, I cut down the time I spent on Facebook and Twitter (and the world kept spinning around), and I was not interviewed anywhere, online or in print. Now, there's a good reason for all of this inactivity and I'll get to that shortly, but, getting back to my first point, I found it very interesting that, even with the amount of readers I've been fortunate enough to have follow me, and the reviews my books have received, my sales still stalled. It confirmed that my books won't sell by themselves. They need some help.
I keep a schedule of my next six months of promotions. I tweak it from time to time, depending on what's happening in the marketplace, but for the most part I know what I'm going to do and when. And, according to my schedule, last month I devoted all my efforts to, get ready, here it comes-Writing. Yep, I've been writing, and revising, and editing. I had a couple of days where I cranked out five thousand words (yeah, I couldn't believe it either), and others where it was only a few hundred, but I left almost everything else alone, and moved forward with a couple of projects I really wanted to complete. I finished my self-publishing guide, and will publish that book at the end of August, I'm part-way through a Christmas romance I've been working on that will come out in December, and I continue to plug away on the third book of my trilogy.
I was told early on, before I published my first book that you shouldn't release any work until you have a number of books written. That way, when you find your reader base you have content to supply to them. I didn't listen. I released my first book and then began work on the others. And, to be honest, if I'd waited I would have lost out on some very good opportunities. I would have missed that magical time at the beginning of 2012 when self-published authors who released their work through Amazon's KDP Select managed to climb into the upper echelons of the paid bestseller lists. And, if I'd missed out on that opportunity I wouldn't have had the chance to find as many readers as I have. So, I'm glad I didn't listen. Now, it's catch-up time though, I need more books for my readers, and I need to stick to my schedule too. And, as part of that promotional work, I need to find new places to talk about my books. I keep a list of those sites too and I'm going to share that with you. IU has dedicated a special resource page for this purpose, titled Book Promo Sites.