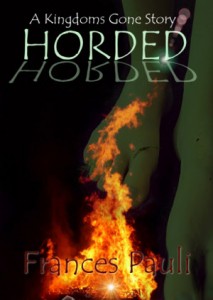 Today we have a sneak peek from Horded, the second book in the Kingdoms Gone fantasy series by author Frances Pauli.
Maera is a woman torn between the debt she owes her people, and the selfish yearnings of her own heart. Tal is the lowest gobelin, the cursed brother of the horde's greatest warrior. When he stumbles onto a legendary castle, however, he believes his luck is about to change.
Together, they are the only ones who can save Tal's brother, the one person they both love and the only thing they can agree on. If they fail, the castle will fall into enemy hands. If they succeed, they'll have to stand together against the full fury of the gobelin horde…
This book is available from Amazon and Amazon UK.
Here is an excerpt from Horded…