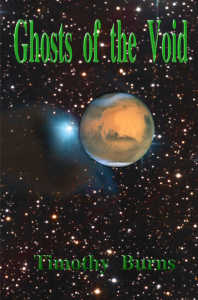 Today we have a sneak peek from Ghosts of the Void, the science fiction novel by author Timothy Burns.
Ghosts of the Void begins in the relatively-near future, painting a picture of an inhabited Mars and the attitudes and feelings of a population that has to depend on one another for survival in their domed cities. When things start going horribly wrong for no apparent reason, it is up to a small group of friends to discover what is causing the problems and then do what they have to to set things right, even if this spells the end for an entire civilization.
This book is available from Amazon and Amazon UK.
Here is an excerpt from Ghosts of the Void…