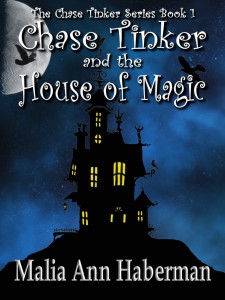 Today we have a sneak peek from Chase Tinker and the House of Magic, the Middle-Grade/Tween Fantasy novel by author Malia Ann Haberman.
In this fun, thrilling adventure, 13-year-old Chase Tinker and his brother Andy find out the truth about their family's magical heritage from a grandfather they thought to be long dead. He invites them to visit him in his magical house – a house where every room has its own unique power. When there, they learn their family's magic comes from a mysterious "Relic" and that they have a Dark Enemy who will do anything to get their hands on this Relic. Now Chase must discover a way to stop these evil beings, find his missing dad, and unravel even more family secrets.
This book is available from Amazon, Barnes & Noble, and Amazon UK.
Here is an excerpt from Chase Tinker and the House of Magic…
Continue reading "Sneak Peek: Chase Tinker and the House of Magic"