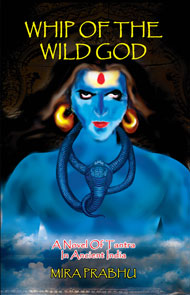 Today, we have a sneak peek from Mira Prabhu's metaphysical fiction novel, Whip of the Wild God.
Whip of the Wild God catapults you on a wild ride into 1839 BCE India….a spirited girl plucked out of rural poverty to be groomed by tantric monks, Ishvari is elected spiritual consort to Takshak, powerful monarch of Melukhha. Hurled into the abyss of addiction, Ishvari violates ancient codes of honor, infuriating the Wild God (Rudra-Shiva) and provoking Takshak's sadistic revenge. As she flees Melukhha, now a notorious fugitive with a gold price on her head, the fire teachings she has intellectually grasped finally blaze into roaring life…
This book is available from Amazon, Smashwords, and Amazon UK.
Here is an excerpt from Whip of the Wild God…