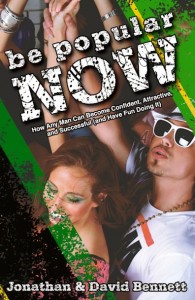 Today we have a sneak peek from Be Popular Now, the self-help book by Jonathan and David Bennett.
Companionship is a basic human need. But, no one is born popular and no school offers "Popularity 101." Fortunately, lonely, frustrated guys now have a solution to their problems. Combining cutting edge research in psychology, brain science, and other fields with practical, proven tips, Be Popular Now is the authoritative handbook of male popularity. Every chapter is entertaining and informative, with concrete examples and practice exercises designed to make any man more popular. Increase confidence, approach women without fear, become the center of attention anywhere, and more! No matter how unpopular you are, becoming more popular is fun and easy.
This book is available from Amazon and Amazon UK.
Here is an excerpt from Be Popular Now…