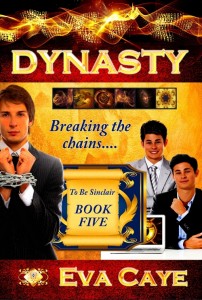 Today we have a sneak peek from Dynasty, the fifth book in the science fiction To Be Sinclair Series by author Eva Caye.
The struggle of Princes Stefan, Josef, and Evan to learn Empress Felice Sinclair's dangerous stargate technology comes at a cost to their private lives. Battling jealousy, favoritism, sexual identity crises, manipulation, and the need to maintain utmost secrecy, they suffer notoriety and isolation in turn, hemmed in by their protectors.
The three Imperial Sons must not only evaluate their personal relationships for their own safety and sanity, they rush to aid the Stargate Fleet after a devastating attack! Will they succeed in assimilating their roles as stargate providers before their mother risks her life one last time?
This book is available from Amazon, Smashwords, and Amazon UK.
Here is an excerpt from Dynasty…