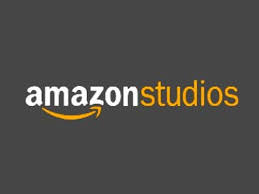 As busy as I am, I occasionally trip over stuff in my internet surfing (yes, I'm dating myself with that phrase). But this was something really neat: Amazon Studios (AS). Some of you know I'm bound and determined to get one of my books to the silver screen. And this is another outlet to do it. The cool part is it's totally FREE!
So what is it about AS that makes it attractive? Well, it links to your Amazon account, so setting up a "studio" is pretty simple. Just go here and log in: http://studios.amazon.com/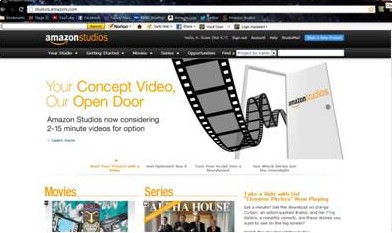 Once there, click on the "Get Started" tab and read everything they got. There's even a nifty and amusing little video to watch as well. AS is partnered with Warner Bros. and if they like your script, book trailer, or short movie, they can exercise an 18 month option on your work. They have 45 days from the day you upload to decide, so you aren't stuck in Hollywood limbo forever. If they option you, don't worry, they won't leave you out in the cold; they'll give you a nice blanket of $10,000 to keep you toasty. Even better, if they sell your work, they'll pay you $200,000. Is your mind blown yet? It gets even better (although I don't see this happening right away) if your movie grosses over $60M, they will pay you an additional $400,000! All this for no cash out of your pocket.
Now that you've educated yourself, are you ready to start? You will have to fill out a few things in "Your Account" before moving on. Then you can go to your "Studio." This is where you can upload a photo and edit all the information using the little blue edit buttons. It will look something like this: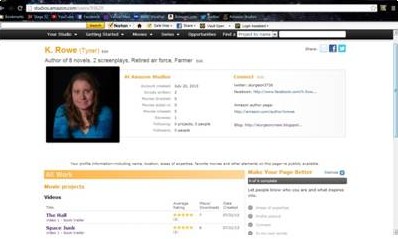 Second page is a continuation of this one.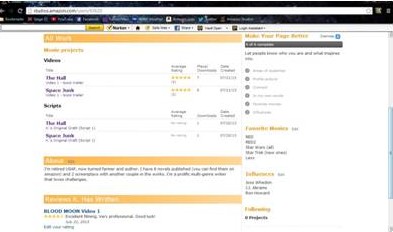 Here is where you will begin uploading your projects. They even have competitions (I believe as long as you tag your work "public" you are entered in these). There's "Premise War" where your logline competes against others and folks can go in and vote. There are book trailer competitions, and ones for short films. Uploading is pretty easy—almost easier than KDP. The one thing to note: you MUST upload your book trailer in one of their prescribed formats—WMVs don't work. Lesson learned.
After you've uploaded, you can go to your project page, which looks something like this: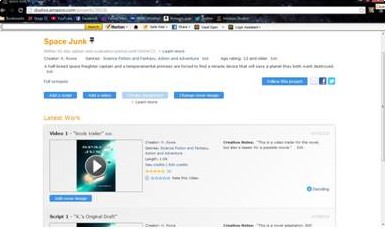 If you have a script and a corresponding book trailer, they will be linked together. These links are shareable with other Amazon friends (See email, FB, and Twitter icons) and they can log in, view, and rate them. Note: for book trailers, I learned that they don't want to hear what a great book it is, they are looking for feedback on the technical and visual appeal of the trailer. Otherwise, feedback and comments are deleted off the site. Another lesson learned.
Once you've uploaded your work, the AS folks will begin reviewing it. There is a 5 stage process for each project loaded. You can see where your project is by looking at the little blue circle in the right corner of your project box—mine says "4 Deciding" which means they've looked at my book trailer and now are deciding if they wish to option my material. Once done, I'll receive an email with a "yay" or "nay" response. If I receive a "nay," I can go back, tinker with the project, and upload a new version. And the whole 45 day process starts again.
Another nifty service AS offers is storyboarding. To do this, you must have your script in an RTF format (Word will let you save a document as an RTF quite easily). I haven't played around with this feature, but it looks like you have the ability to choose characters out of a stock library along with settings and such. Here's the page with what some of them look like—they are all black and white unless you're a techno and can figure out how to add color.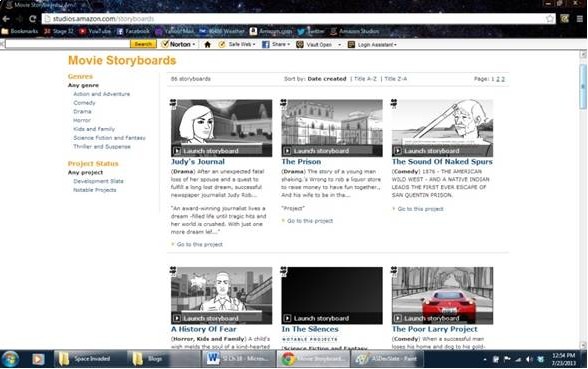 On the sidebar, you can sort by genre or status. Each storyboard can have between 10 and 100+ frames to view. Not sure how much work it is, but they are impressive. There's also a page by page rating system on this feature so folks can tell you want they think of each stage of your board.
And lastly, what happens if your project gets optioned? You go to the "Development Slate." This is where AS showcases the projects they THINK will tickle the fancy of the Warner Bros. executives. You can poke around and see what they considered the cream of the crop. I found it handy to do research on what they think will sell. Some were very good; others, well, uh, I'm not commenting.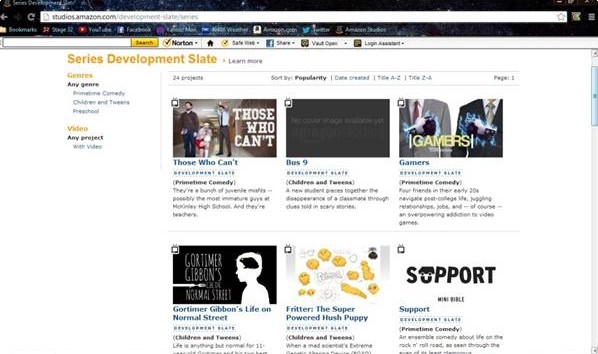 There's another tab for "Notable Projects" kind of a runner-up page for scripts that were good, but didn't make the final cut. These folks I'm sure were urged to go back and re-work their projects and resubmit, hoping they will make it to the Development Slate the next time around.
So far, my experience with Amazon Studios has been good. After a few initial hiccups and learning exactly how to upload my videos, I'm keeping my fingers crossed that I get that "yay" email. If you have a book trailer, and aspire to have your book made into a film, then AS is a good place to start.