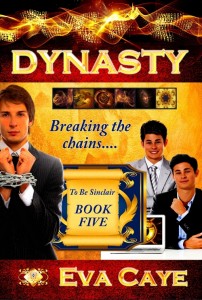 Today we have a sneak peek from Dynasty, the fifth book in the science fiction To Be Sinclair Series by author Eva Caye.
The struggle of Princes Stefan, Josef, and Evan to learn Empress Felice Sinclair's dangerous stargate technology comes at a cost to their private lives. Battling jealousy, favoritism, sexual identity crises, manipulation, and the need to maintain utmost secrecy, they suffer notoriety and isolation in turn, hemmed in by their protectors.
The three Imperial Sons must not only evaluate their personal relationships for their own safety and sanity, they rush to aid the Stargate Fleet after a devastating attack! Will they succeed in assimilating their roles as stargate providers before their mother risks her life one last time?
This book is available from Amazon, Smashwords, and Amazon UK.
Here is an excerpt from Dynasty…
Josef evaluated the diagram and the formulas, shaking his head. "At this rate, I'm going to just patent it in Stefan's name."
"What is this design, anyway? You never told me," Evan complained.
Josef described his force-shielded bumpers to Evan, who whistled with approval. "I even got Roberta to help me price the components. It won't add more than ten percent to the price of a ground car, and that could easily be covered by the savings an owner would get on insurance alone."
Pouring over Stefan's schematics, Evan's voice went plaintive. "No wonder Mother thinks I'm a dunderhead. Between you and Stefan, I might as well be a horse in her eyes, just someone to ride until I'm knackered."
A sharp breath came from the doorway to the corridor. Mother stood stiffly, staring at Evan and blinking back sudden tears. She glanced at Stefan, who was busy with Charles, and then at Josef, who felt as embarrassed for Evan as his twin appeared. To their great surprise, Mother turned and walked away.
Two minutes later, a Sentinel agent peeked through the open doorway. "Your Highnesses? The Empress says your class has been cancelled."
Stefan glanced up from his position looking over Charles' shoulder. "Is everything okay?"
The Sentinel agent's face was blank. "I do not know, Highness." He retreated quickly.
Josef waved Stefan over. When he was within earshot of a confidential whisper, Josef replied, "Mother caught Evan saying something indiscreet. She finally realized how much pressure she's been putting him through."
Evan couldn't hide his misery. "I'm sorry, I shouldn't have complained. I'm just jealous that it takes you two no time to absorb everything, by osmosis apparently, whereas I have to beat my head against it all. I hardly see Jessica on weekends anymore, even. I feel like I am about to explode," he confessed. "Even workouts don't seem to relieve me. Or sex, what little I get anymore."
"I do understand the feeling, but if it's going to interfere with me and Josef getting trained, I object," Stefan said coolly. "This is the chance of a lifetime, and I am ready for it, even if you are not. Would you please at least go apologize to Mother? And make sure she knows it is your problem and not ours?" A brief flash of thunder crossed his face.
Josef was torn. Try to keep up with Stefan, whose brilliance he already resented, or stick with Evan's reluctance to continue and have more time for himself? He was mad as hell to be caught in this conversation. "Go ahead and take the training, Stefan. It's not like you have other people you want to spend time with."
The expression on Stefan's face made Josef desperately wish he had not said a word. Stefan blanched a sickening greyish-white before striding over to pick up his computer and leave without even glancing in the twins' direction. Josef could hear his steps pick up in the corridor, almost to a run.
---