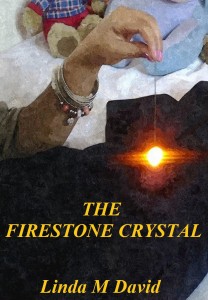 Imagine being the only Earth pupil to attend a school on another planet, being targeted by the school bully, finding proof of the existence of a mythical creature and discovering that an evil, long-dead warlord has found a way back from beyond the grave – welcome to the Firestone Academy!
Agathea Fulstropp's world is turned upside down when her grandfather's mysterious childhood friend returns to Earth to enrol her in the Firestone Academy on Planet Aruuliah. There are lessons in telepathy and mindreading and she has sinister dreams about a mysterious, deformed cave creature…what can it all mean?
The Firestone Crystal, the contemporary fantasy by Linda M. David, is available from Amazon US, Smashwords, and Amazon UK.
Don't forget, you can cast your vote for trailer of the month on August 31, 2013 at 5 p.m. Pacific time.