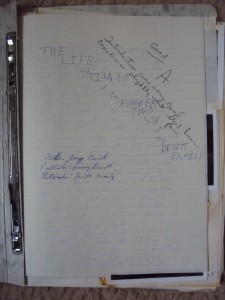 Every writer has a story. In almost every interview, one of the questions asked is, "When did you start writing?" People who say that they've always wanted to write or they began when they were very young blow my mind. It wasn't like that for me … or was it?
I never really thought about it much until that question popped up a bunch over the past couple of years. I couldn't remember wanting to write. However, some things are inevitable. While unpacking boxes recently, I came across a paper that I had written for school when I was ten.
The Life and Times of the Number Two Son of the Devitt Family.
We've all written school papers, however, when I came across this one, I had to laugh. On the title page, I found something that blew me away. Here's the 'Front Matter':
           Publisher: Jimmy Devitt
            Photographer: Devitt Family
WHAT!? Who would have known that at ten years old, I would have realized that I was going into self-publishing? After all, this was something like 40 years ago.
Now we fast-forward to high school. Here's where writing changed my life, literally. I entered an essay contest in the Seattle Times, writing on the topic, "Why I wanted to be a Bat Boy for the Seattle Mariners." Long story short … I won. I became the visiting clubhouse batboy for the Seattle Mariners, working on the field for Major League Baseball.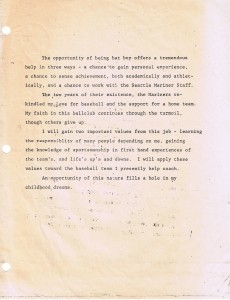 For the next eight years of my life, I worked with the likes of Reggie Jackson, Tom Seaver, Mark McGwire, Nolan Ryan and the rest of pro baseball.
The weird thing is, until recently, if you would have asked me about how I got started in writing, I would have said it started late in life.
So, in conclusion, I'll end with immortal words of Jimmy Devitt in the last lines of "The Life and Times …"
… That's about all I can tell you now. If I went on I'll have hundreds of pages. So, now I'll have to say goodbye. I hope the rest of my life is better from now on. There's not much more you can get out of me now. So here's Jimmy Devitt saying goodbye, "Good-Bye".