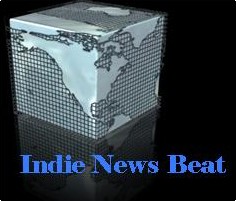 Gather 'round, children. It's time once again for the Indie News Beat – the only news that matters.
Here at Indies Unlimited, we hand select only the finest sun-kissed news links. We place those links in a vat and the lovely ladies of Indies Unlimited crush them with their bare feet. Do you know what comes out of that vat? Truth juice!
Sadly, Chris James didn't show up for work again. I guess he's still on tour with Genesis. When he said he'd written a book with stories inspired by the lyrics of songs by the greatest rock band in history, I naturally assumed he was talking about KISS. Oh well.
From the "you may already be a winner" section of the news, Publishers Weekly announces:
The $166 million publishers have agreed to pay to settle e-book price fixing charges with the states and consumer class could soon begin flowing to consumers, and PW has learned that more than 23 million consumer accounts are eligible to receive refunds.
I don't know if consumers should get too terribly excited about this. I have unknowingly been a party to many class-action suits. The one thing I know is that the lawyers make all the money. In one action (to which I did not know I was an aggrieved party) the law firm that sued on my behalf stuck a major software company for three million dollars. I got a coupon for two bucks off the next product I bought from the offending company. There is something wrong with this system.
There is still plenty playing out in this whole rotten Apple price-fixing thing. Under the latest iteration of the DoJ's plan, the Apple gang has to terminate its current e-book agreements with the defendant publishers, but instead of a straight-up five year ban, would be able to re-negotiate with some in as little as two years.
Yet, the letter of the law often meets the law of unintended consequences. While Apple and big ink take the brunt of the heat from the Department of Justice, it looks like Barnes and Noble is in the splatter zone. Digital Book World reports:
In the last fiscal year, most of which involved most of the large publishers off of agency pricing, the company lost nearly $500 million — about $200 million more than the company lost in its previous fiscal year.
All of which makes it seem as if big ink is standing on pretty thin ice despite any happy noises they make about profits.
In future news, the Guardian posits a scenario in which reading becomes a networked experience:
Readmill aims to fulfil the potential of networked reading. Readers can underline and comment on a text to their heart's content, then open up those comments for discussion among a growing community of passionate readers.
Like a giant book club? Certainly, it could be that. Just as likely, it could become a target of swarm reviewers like we've seen in Reddit and Goodreads, or of paid-for corporate sock puppet accounts.
But let us end today on a pleasant thought. While Amazon may often seem like a big scary monolithic corporate juggernaut, it also has a warm fuzzy side. It seems to take pretty good care of its authors.
That's it for this week's edition of the Indie News Beat. Off I go to wait for more stuff to happen, and when it does, it'll be news to me.