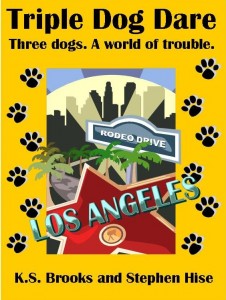 I'll be honest; I'd never done anything with Advanced Review Copy (ARC) readers until the release of my most recent collaboration with the Evil Mastermind, Triple Dog Dare. It was all new territory, and it felt weird.
I don't like asking people for anything, let alone to read a 100,000 word novel and be ready to write a review when the book goes live on Amazon. That seems like a lot to ask of someone. I stopped reading books for review long ago when the requests to do so became overwhelming. I was receiving emails from complete strangers from all around the world (not kidding) – with their manuscripts attached – asking me to review them. Unfortunately, I had to draw the line. So, I had to be frank with other authors; I would not be able to offer a review swap.
So…what incentive do these people have to put this kind of effort into something for someone they may or may not even know?
This is an extremely difficult question to answer.
If you "offer" things to these readers, it could be construed as a "bribe" to elicit a favorable review out of them. Some of them are happy to do the job solely because they enjoy reading books before the public gets to. I think that's super cool. But I still feel like their effort deserves something special. So, again, what can be done?
Hise and I worked it so that the ARC and Beta readers got the following:
A private link to the book's video trailer unavailable to the public
Advanced notice of the release date
Advanced notice of the free promotion
Advanced notice of the 99 cent introductory price
Promise of a discount coupon for the print version
Is this enough to show gratitude for reading 300 pages – on a deadline? I dunno. I guess it's a fine line. On release day, I received an email from someone involved in the process stating "You treat your ARC readers very well." Did we? We tried to. We tried to keep them in the loop without inundating them with emails and/or reminders. Is there a perfect balance?
If you were to (or have) participate in an ARC capacity, what would you like to see from an author?

Loading ...