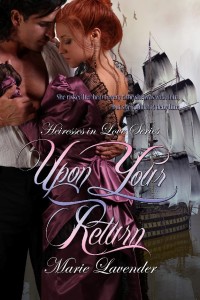 Upon Your Return
by Marie Lavender
Genre: Historical Romance
Word count: 97,426
Fara Bellamont has been back in society for a year after leaving Cluny Abbey, where her uncle sent her long ago. When he chooses a suitor for her for marriage, she fears that she will be forced to marry a stranger and live a miserable life. But, Fara finds herself thrust into an adventure of a lifetime when unforeseen circumstances cause her to place her trust in a strange man for protection. His intervention not only saves her, but puts her in an even more compromising position. Grant Hill, a trading captain, is enchanted by the young heiress not only because of her beauty, but because she is hardly conventional. Underneath her ladylike exterior lies a tigress. Grant cannot help but offer his protection as she is in need and he is far from immune from her charms. Fara just never bargained on the passion that she feels for Grant Hill. As events unfold, she must decide whether her desires and the dictates of her heart should trump the rules of society…
This book is available from Amazon and CreateSpace.
Marie, how did you come up with the title for your book? Does it have any special meaning? 
Yes, it came directly from a section of the dialogue. The heroine says it to the hero.
Who was your favorite character and why?
I have to admit that Fara Bellamont was my favorite. Yes, she's the main character, but it was really her strength of spirit that made me like her so much. She went against a lot of social expectations to find her happiness.
Does your book have any underlying theme, message, or moral? 
One good message is to never give up, no matter what the odds. Another is that real love can withstand the test of time.
What would/could a reader or reviewer say about this book that shows they "get" you as an author?
There is a bit of myself in my books, I believe. Having said that, the best thing that could be said is that the two characters "should" be together. If it's clear to the reader or reviewer that this is a destined story, that is what I meant to convey.
Give us an excerpted quote from your favorite review of this book: 
"I only meant to open it long enough to see how long it was going to be but found myself sucked into the story from page one. I couldn't stop reading and ending up stay up way past my usual bedtime. It was that good."
Where can people learn more about your writing? 
http://www.marielavender.webs.com/