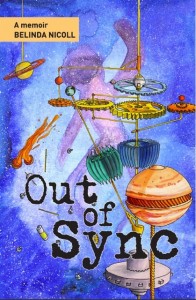 Today we have a sneak peek from the memoir by Belinda Nicoll, Out of Sync.
In 2001, a South African couple arrives at JFK International Airport on the morning of September 11th, unprepared for the sight of hijacked planes crashing into the World Trade Center. Over the next ten years, as their host country confronts fundamental change of its own, their marriage buckles under the strain of their disparate experiences. With the global economic crisis making it all but impossible for them to return to their country, they relocate from California to the North, the South, and the Midwest searching for a place they can call home. This memoir about the bizarre trajectory of a couple's life offers a thought-provoking account of America's tantalizing hopes and unexpected disappointments.
Out of Sync is available through Amazon.com, Smashwords, and Amazon UK.
Here is an excerpt from Out of Sync…
Chapter 6
24 September 2001: Dear Family and Friends,
The country seems on the edge of more disaster. The majority does not want war, but the Government is artful in manipulating emotions to justify their desire for retaliation. Even though we feel detached from the political sentiments, our intimate brush with the horrific events has created an emotional connection with the place and its people.

Enough said of politics. Bruce is on a steep learning curve and crumpling under the volume of work. I'm keeping busy with apartment hunting: the options are a high-rise condo in the city (his preference) and an apartment house in one in the suburbs (guess who's preference).

I'll keep you updated on our news. You are on our minds and in our hearts all the time.

Lots of love, Belinda and Bruce.
The snag that elevated my gloom to a high-risk level was Bruce's traveling—a small, undisclosed detail of our big plan to relocate to America. His business trips started with a client visit, then it was for research, and then for another client visit, and more research: Los Angeles, San Diego, Chicago, Boston, Philadelphia, New York City. As his life took off, my days started stretching under the fast-growing cloud on my mind's horizon. My worrywart voice of old emerged: I hope you haven't married another absent husband.
"Traveling is more stress than fun," Bruce countered when I objected to my aloneness.
Although the pressure associated with his job did show in a newly acquired frown, he reported lots of jolly moments too. Lucky for him, stress and joy were two extremes on life's continuum: both conditions pumped adrenaline and kept the heart going. But boredom lacked momentum, like the inert ball at the center of Newton's cradle—that place where I'd been in my first marriage: the Neverland of Nobody.
I'm still a bit baffled by those intense reactions to our expatriation, even if there's no denying that the adventure quickly turned into a good dose of culture shock. While I experienced the typical disbelief, anger, and anxiety as a result of the World Trade Center attacks, I did not suffer other symptoms of post-traumatic stress disorder, like insomnia, sadness, fear, and depression. Not then; those gremlins would only haunt me later. But I felt disoriented, like incompatible frequency signals were scrambling my inner radar. For instance: in the first year of our stay in San Francisco, I lost my handbag more times than I care to remember, usually leaving it behind in a restaurant or movie theatre. I always retrieved it, though, which was one of those fantastical things that could, to my mind, only be possible in America. At home, women have long ago stopped wearing accessories like handbags and jewelry, because they can be snatched from you anywhere, anytime. I often wonder how things would've worked out if I was able to relax into our short-term plan instead of pouring all my energy into defying my restrictive circumstances.
---