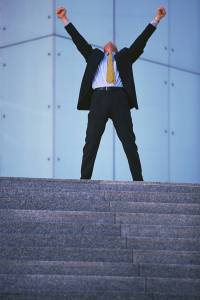 In the last few weeks Indies Unlimited has crashed through a significant barrier in the world of internet traffic. Our Alexa ranking has fallen below the six figure mark and currently stands at 67,049*. Whoop de woo, totes amazeballs! (It's a phrase used by young people, M'lud). Ok, I know most of you glazed over just then, and quite right too, but I'm going to explain what's going on and why it's worth understanding.
If you're anything like me, you are forever reading about new ways to promote your book. Since the explosion of interest in Indie authors, there's been a parallel explosion of people/businesses/websites/blogs clamouring for your time, attention and sometimes your money. (Can you have a parallel explosion? Maybe not. My metaphors go to pot when I'm excited.)
We cover many of these outfits at Indies Unlimited. If a website emerges that looks as though it might be a time or money sink we usually put Inspector Meyer on the case. He is relentless at sniffing out scams and spams, sometimes even stumping up a buck or two on our behalf to place his book with an online marketer just to see what happens. Thanks Rich.
But suppose you find a site that looks interesting and you want a quick and dirty way of finding out if it's worth your time and/or cash. Alexa can tell you whether a website is really getting any traffic. Now, please don't think I judge every website or blog this way, with writers I want to read what they have to say, not delve into the engine room to see how the site ranks. Ditto, niche bloggers who appeal to me and the people who read my stuff. When an outfit is promising me online exposure however, pitching their social media skills and online traffic at me (and asking for money) I want to know if they really know their stuff.
All websites have an Alexa traffic ranking, based on the previous three months' activity. This figure represents roughly how many visitors the site receives compared to all the other millions of websites out there. You don't need to understand it a lot because I'm going throw out some simple numbers to work with. The only thing you need to do is to download a free little extension to sit in your browser's toolbar.
Here is my toolbar, I use Chrome…

It has a tiny little blue 'a' favicon (remember those?) with a blue line underneath. If I hover over the 'a', it shows me a number, which will change as I visit different websites.
This screen print was taken while I was on Facebook.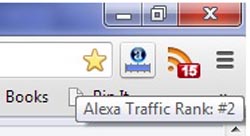 It tells me that Facebook has more traffic than any other webpage in the world, except one. (Dunno, I stopped looking after Twitter and Google.)
If I click my little 'a' I get more information: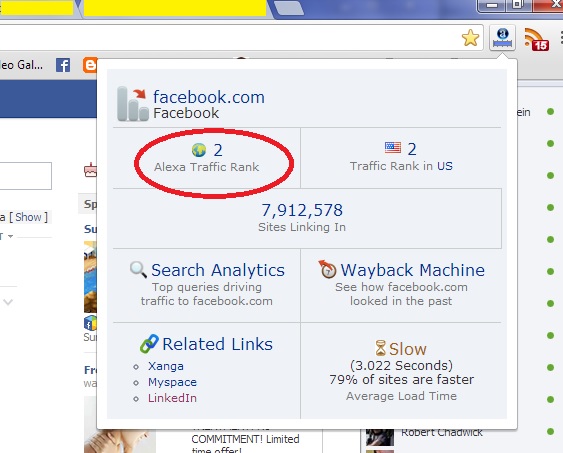 We're not all Facebook, so we'd not expect these sorts of numbers from a personal website, but everyone's worldwide and local figures can be handy for comparison. The lower the better.
Here are Indies Unlimited's Alexa scores: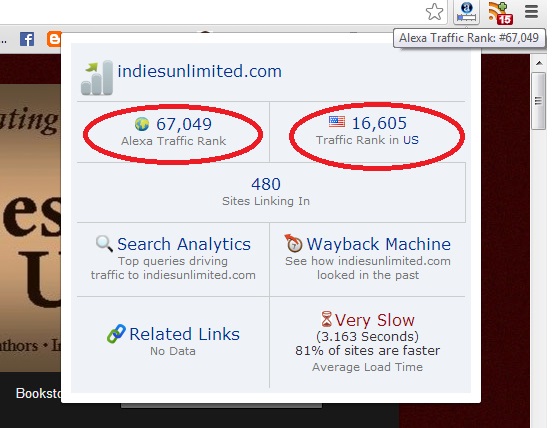 A bit meaningless on their own, but I'm going to give you some guidelines. In my opinion, any site with an international Alexa score below one million is worth time and effort. A guest post maybe. Any site with a score below half a million is worth money. Under 100,000 is, well, impressive.
Put into context, Indies Unlimited gets more traffic than most 'social media experts' and a good few publishers, and they let me write for them for nothing. If it cost me money to post here I'd be inclined to spend it. (Shh, don't tell the Evil Mastermind.)
Contrast this with the Alexa rank of another site, I won't name it. Suffice to say this is a professional online book marketing company, charging plenty of money, and aggressively seeking clients for their brand of online savvy.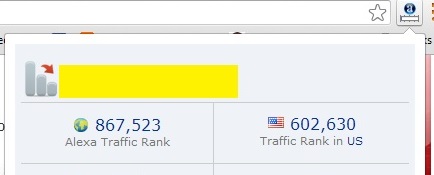 Hmm, below a million but not worth untrousering any cash in my view. Thanks, but no thanks, I'm getting better exposure with Indies Unlimited.
Here's a popular boutique publisher, to whom I considered submitting some work: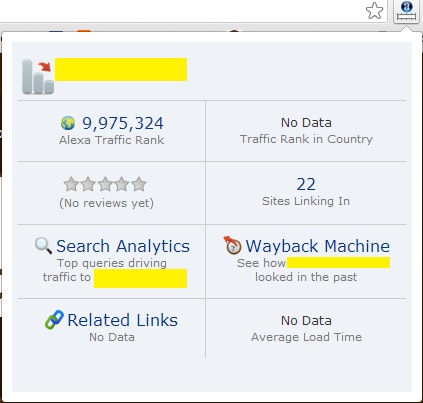 Above nine million and not enough traffic to generate any other data at all. I changed my mind. You might not, but the information to help you is out there. Alexa can help you assess the traffic to anyone's website and for the sake of a click, it's worth using.
A note of caution, once the figures get below tens of thousands the accuracy isn't excellent, and there are ways of 'gaming' an Alexa rank to show more traffic than a site is really getting. But anyone who has successfully rigged this is so geeky they will be good for you anyway.
To get the Alexa extension go to alexa.com and click 'toolbar'. The site should detect which browser you are using and offer you the right download. Your little blue 'a' may look different in browsers other than Chrome but it'll still be there in your toolbar to play with. Now, keep in mind, you don't have to download the toolbar to check site rankings on Alexa – you can do it manually on their site. No matter which way you do it, have fun.
*These traffic stats have updated several times since this post was written. As of 7:40 AM, US PDT, the Alexa ranking for Indies Unlimited is 62,785 global and 15,989 in the US.