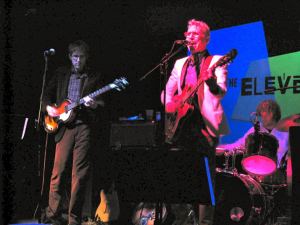 You just turned on the radio and heard the PERFECT song for your book trailer. Should you:
A) Stalk Beyoncé after a concert and ask her for permission to use it;
B) Use it without permission, because no one will find out until your book becomes a bestseller, at which point Beyoncé should be thanking you; or
C) Sing it yourself so you don't have to worry about licensing — and because your mom says you're as good as Beyoncé, anyway.
The correct answer is none of the above. At least in the United States, if you are going to link music to video, you need synchronization licenses both from the record label that owns rights to the recording AND from the songwriter(s)/publishing company(ies) that own rights to the music and lyrics. Even if you perform it yourself and don't need the sound recording, you still need the sync license from the latter because the composition is copyrighted. BMI.com provides a good summary of the different types of music copyrights at http://www.bmi.com/licensing/entry/types_of_copyrights.
I am not a lawyer, but these are the things that the nice people at BMI told me when I recently sought permission to use the perfect song for my trailer. My perfect song was a bonus track that had never been released to radio, and the artist's other music is very rarely played on the radio, although there is a solid fan base. So I thought if I splurged there might be a shot that I could afford to license it and was curious enough to try. I was advised to start looking for the song on BMI and ASCAP, two of the main performing rights organizations where songs are registered so the artist can get paid when they are played. BMI and ASCAP only deal with performance licenses, not sync licenses, but their databases contain information about the writers and publishers.
My song had one writer listed–not the performer, by the way –and two publishers. This was pretty minimal effort, considering some songs can involve five or ten or more different people and organizations. I wrote to all three back in August, and although I still haven't heard a word from two of them, Sony/ATV Music Publishing responded within a week with a form to fill out. The form asked whether it was a personal or commercial endeavor, the length of the license, the price I was willing to pay for it, description of the project, etc. A few things to note:
1) Even though you may consider writing to be a hobby because you're broke, if you are trying to sell your book via advertising with a trailer, it is a commercial endeavor.
2) The Internet lasts forever but licenses do not.
3) There is no pricing guide. The websites that I researched for such information show a huge range in pricing, and there are many variables with little transparency. So I started with a suggestion of $50 based on the fact that places like songfreedom.com will license for $24.99 (although I learned later that commercial licenses are $199). I had read that movie studios typically pay much, much more, but I had also read that some indie films get the same music for free. So I made sure to explain clearly what the music was for and the likely limited reach of the video trailer.
I received a quick and courteous reply stating that a) licenses for the use I requested are only granted for one year at a time, and b) the fee would be approximately $7,500 to $10,000. After I spit out the sandwich I choked on, I replied with a thanks-but-that's-not-in-the-budget and politely asked a couple of additional questions, hoping to be able to share some more details with you folks about how to determine in advance when a song might be within financial reach–if ever. I didn't receive a reply, which is understandable, considering I was a waste of time at that point, as were all of my poor writer friends.
It's little wonder why people don't bother to ask for permission. However, that is still not dispensation to use music illegally. Not only should doing so weigh on your conscience as a creator yourself, but the fines for using music without permission can be ten times what you would have paid in fees. So, while established artists are likely out of reach, if you are determined to find a song unlike any others to use for your video, and you have some budget for such a thing, there are thousands of up-and-coming indie musicians who have posted their songs for easy sync licensing on sites like songfreedom.com, rumblefish.com, haveasync.com, and others.
Of course, even those avenues may be outside of your non-existent budget, in which case you can still find a variety of free trailer-ready music beyond what is pre-packaged on video maker sites. Freestockmusic.com is one such commercial site with thousands of options, and there are also independent composer sites like freemusicforvideos.com and incompetech.com.
For those of you who have made book trailers: Where did you get your music? How did you know you had the right licenses?