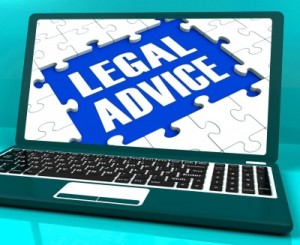 Occasionally, indie authors will need to contract with a service provider – an editor or a cover designer or a tour operator. Or two or more authors might decide to band together in a partnership to provide, say, an editing service, or even a small press. Particularly if you're starting a business, you'll need to file some forms with the government. You could just shake hands and assume that everyone involved will be trustworthy and fair – yeah, right – or you could have a lawyer draw up the proper paperwork.
But it's expensive to hire an attorney. And besides, they're right up there, in terms of trust, with used car salesmen and members of the U.S. Congress (a lot of whom are lawyers, so there you go). So it's understandable that indies – who are notoriously frugal – would want to avoid paying some shys—uh, that is, a fine, upstanding member of the bar – to handle simple legal matters.
Several websites offer free or discounted legal advice. Consumer Reports, bless their nonprofit hearts, did a comparison of three of these sites about a year ago. They compared services for a will, but we're more interested in their business services. As near as I can make out, here's what it would cost.
LegalZoom.com: This site seemed convoluted to me. If you want to form a limited liability company (also known as an LLC), the package of forms and instructions starts at $99.00. Or for $29.99, you get a month's worth of access to a lawyer who's licensed in your state and who can answer your legal questions, 30 minutes at a time. You also get access to their library of forms to download and keep. Once you're in, there are fees for some other services, and some forms cost additional money (although you get a 10% discount as a monthly subscriber).
RocketLawyer.com: This site offers a free week of access as a come-on. After that, it's $39.95 a month for access to their downloadable documents and instructions. Their fee for an LLC package is $99.00, the same as LegalZoom – but Rocket Lawyer waives the fee if you sign up for their monthly plan. Once you've paid them for three months, you can get 30-minute consultations with a lawyer who's licensed in your state.
Nolo.com: The granddaddy of them all, Nolo Press has been around since 1971. They don't offer a subscription service; instead, their forms, instructions, books, and software are available individually at various prices. Their form for creating an LLC is $99.00. They also offer free information on legal topics and a lawyer database.
Consumer Reports didn't rate them, but another website with free legal forms and advice is the 'Lectric Law Library. This site is worth a visit, if only for the trip down Memory Lane – there's a lot of tongue-in-cheek stuff about the war on drugs – but the downloadable forms and advice are the real thing, and free, for the most part, with no subscription fee required. They also have more complex forms and packages available for a fee; clicking on the "premium forms" link on their legal forms page takes you – hey presto! – to Rocket Lawyer.
That said, free (or cheap) legal advice is often worth what you pay for it. The law professors who Consumer Reports hired to look over the wills they'd drawn up via LegalZoom, Rocket Lawyer and Nolo had various complaints about the resulting documents. If you have any concerns at all, after you've completed a form you found online for free, you might want to ask an attorney who's not affiliated with one of these sites to review it. And of course, if your situation is complicated, it's always safer to just pay the money and hire a lawyer.