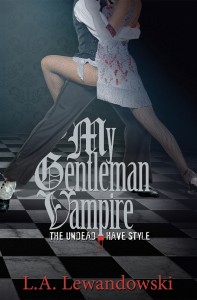 Today we have a sneak peek from My Gentleman Vampire, the modern vampire novel by L.A. Lewandowski.
Natalie Crisan is reeling from her boyfriend's betrayal. Her confidence is shattered and her heart is broken. Karma works its magic as a new man enters her life: a fabulous creature who shocks her out of self-pity. A tango competition draws Natalie into his social circle. When a sexy shape shifter decides Natalie is to be his next lover, her growing attraction to him threatens her emotional equilibrium. Natalie is seduced by the excitement of this dark world, and the undead either adore her or want to drain her blood. Can a tango's revenge and her gentleman vampire save her?
My Gentleman Vampire: The Undead Have Style is available through Amazon.com and Amazon UK.
Here is an excerpt from My Gentleman Vampire…
"The couple over there, Natalie, is Selena Sidbury and Slade Suit, competitive nickname Dirty Diva, winners of the 2011 member/guest dance competition at CeCe's, ballet, tango, and porn all rolled into one. Their moves are extremely erotic, bordering on being in violation of the "in good taste" contract all competitors sign when they enter the contest. There was this one move … well, I mean, get a room — brought the house down. I can't wait to see what they come up with for this year's competition. Selena is a vampire, but Slade admits to nothing unnatural. Rumor is he's a shapeshifter, and they can be particularly untrustworthy —and horny as hell. I don't have a problem with either one of them, although I've heard that any woman, or man, who even looks at Dirty the wrong way, is taking a risk. Diva is vewy, vewy jealous."
I sipped my cosmos and watched Selena and Slade sort through a pile of cashmere pullovers. They looked like a normal couple to me. Selena smiled as Slade held up a turquoise sweater in front of her. The color suited her abnormally pale skin. David was uncharacteristically quiet, gazing down into his black goblet.
Ralph hadn't missed a beat and was still talking in a stage whisper.
"What about you two? The rumor is that you cut quite a rug the other night. Oh, don't look so surprised. I keep my ear to the ground. I need to know these things in my business. So, if you decide to do it — which you should, because everyone is afraid to take Dirty Diva on — I have just the person to make Natalie's costume. Not a person, darlings, a fairy. Amazing, rising talent. You won't be able to touch her designs next year. The top designers are already on her for exclusivity. Here she is. I'll introduce her."
I turned my head as a lovely, petite woman sat down in the unclaimed chair of our small circle. I searched my mental Thesaurus for adjectives to describe her glowing presence: luminous, pearlescent, radiant, shining, … you get the picture. Her hair was the perfect shade of blonde, blunt cut just above her shoulders, and tied across the forehead with a black beaded band. She was petite, with the body shape made famous by Mia Farrow in "The Great Gatsby." Her dress was like molten silver, and the fabric rippled like none I'd ever seen before. The rounded neck, armholes, and hem were all rimmed in black, and a hem of fine black beads highlighted the perfectly proportioned legs that wore translucent, silken hose. Her shoes were the biggest marvel of all: a silvered gardenia leaf bent right side in, with the addition of a matching silver wedge heel. It was the ensemble of a chic, ethereal creature.
"David, Natalie, this is Iris Lavender. Iris is a new addition to Nuit Boutique. She is available for custom design work. Shhh. Oh no, here comes Dirty Diva."
---