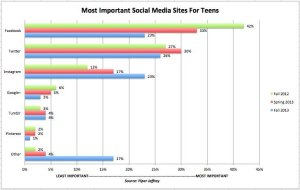 We write about it all the time in these posts. As authors, we must diversify our marketing. Facebook, Twitter, Google+ and the copious amounts of other options all play a role in connecting with our audience. Sometimes, we focus on one platform or another and spend most of our time there. That's not a bad idea, unless that becomes your only platform.
A recent study by Piper Jaffray reported that teens now consider Twitter as the most important social site, replacing Facebook as the King of Social. In fact, in just one year, Facebook has plummeted from 42% a year ago to just 23% today.
If you are like me and write for the teen market, then these numbers are important. How many of us have an active Twitter program for reaching out to new readers?
Teens are also shopping online more often. Approximately 78% of females and 82% of males do their shopping online. While teens might declare that Twitter is more important, the stats still show that Facebook has a bigger foothold. According to a Pew report, the average teen has 300 friends on Facebook but only 79 followers on Twitter.
What does this mean for us in the end?
We need to keep diversifying. Back in January, I posted on how to schedule a social media marketing plan, focusing on certain plans each week. Scheduling social media platforms and how much time you allot for each will keep you from losing critical markets and readers.