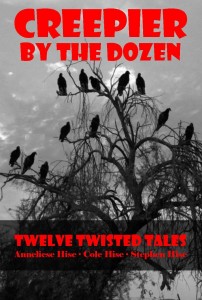 Today we have a sneak peek from the collection of short stories by Stephen, Coleman, and Anneliese Hise: Creepier by the Dozen.
An anthology of twelve chilling short stories in the "Twilight Zone" tradition by a father, daughter and son team of writers. From a creepy ambulance ride with a serial killer to an apathetic and persuasive hitman, these hair-raising and original stories will haunt you long after you've finished reading.
Creepier by the Dozen is currently available for all eBook formats from Smashwords and in print or Kindle editions from Amazon US and Amazon UK.
Here is an excerpt from Creepier by the Dozen:
from GPS

Before going to bed, he went into the garage and gave the car the once over. He looked around the garage, making sure there was no cat laying in ambush, no shovel or rake just about to slide over and hit the car. Then he spoke in a stern paternal voice to the car, "No foolishness for you tonight, young lady. Now, you get to sleep and stay asleep."
Then he headed for the bathroom, stripped off his clothes, and brushed his teeth. He crawled into the bed which was still unmade from last night, and in fact was never made up unless he expected company – after all, who was he trying to impress?
A little before three in the morning, the drama from the previous night repeated itself. The horn was blaring in regular, staccato bursts. He bobbed as he sat up, groggy, as if he had half been expecting it. Nine honks, then it stopped. He lay back down, fully expecting to return to sleep. For a moment, he thought he would, but then he swore violently and turned on the bedside lamp, fished his keys out of his trouser pockets, and stormed resentfully for the garage.
It was just as before. No visible explanation. He slid into the driver seat and there was the little yellow light on the GPS display blinking away.
"It's you, isn't it? You're doing this somehow." He got out, and slammed the door hard, and trudged back to bed, swearing he was going to take the damn thing in and get this problem solved once and for all.
He didn't think he would be able to go back to sleep, but he did. It was a fitful sleep. He dreamed that he was in his car, following the GPS. He went down the interstate, off on a little county road, down a dirt road, deep into the desert outside Phoenix. At the end of the path, his headlights bathed a pile of rocks He got out of the car and started digging with his bare hands at the pile of stones, flinging them aside madly, trying furiously to get to what was beneath. He had to, because, in his dream, that thing – whatever was at the bottom of that rock pile, was causing his car alarm to go off, and he had to get that thing.
---