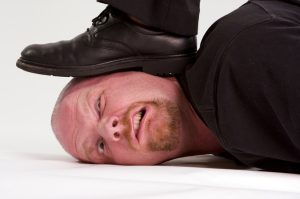 This past weekend, I fell into a somewhat troubling conversation with a friend on Facebook. First, I guess, a little background would be helpful: Like a lot of authors, I have an author page, to which I tend to confine posts about my writing. For one thing, I don't want my friends and family to feel like I'm spamming them with stuff about the writing gig. For another, I have been known to post political items on my timeline, and I don't want to take a chance on alienating readers needlessly.
Makes sense, right? But then I had this conversation on my personal timeline. "Is Crosswind out?" my friend asked. I told her it was, and in fact, it had been out since November 20th – a good two-and-a-half weeks. And then she said that she had missed the news, which surprised her, given that we're Facebook friends, she's a fan of my page, and she knows me from Message Board X where nothing was posted about the book.
Okay, Message Board X is my fault. But I've had numerous posts on my fan page about the new book. I've posted links to my blog – where I ran a post about the new series every week last month – on both my fan page and my personal timeline. And yet, she hadn't seen any of them. And this is a person who is online a lot. So what the heck, Facebook?
As an article from Ad Age explains it, Facebook is admitting that it's limiting "organic" post reach, basically because it wants to force businesses to buy ads. And by "businesses," they mean you and me.
In other words, unless you pony up, you can't rely on Facebook to get the word out about anything anymore. I mean, I guess it would work if you set up an event and send an invitation to everybody on your friends list. But it strikes me as counterproductive to have to set up an event every time I have a guest post somewhere. Maybe that's just me.
So what's a frugal indie author to do? Google Plus is one social media alternative, but it doesn't have the number of eyeballs Facebook has (although if Facebook won't show your content to those eyeballs unless you pay them, the numbers may be closer than you think). Or you can get your friends to help you make a lot of noise on Twitter (although I'm not convinced that sells books, either).
Or you can send newsletters. I've started using Mail Chimp, which David Gaughran recommends in one of his books. For that, you need to develop a mailing list. Jim Devitt wrote a post on building a mailing list from your blog; you can also encourage people to sign up on their own. But my friend said she never signs up for newsletters because she tends to delete them without reading them, and I know she's not the only one (*cough*I do too*cough*). The conversion rate for e-mails, even for just getting recipients to open the thing, is pretty dismal. But it might be better than Facebook these days – and unless your mailing list is huge, sending a newsletter is still free.
I'm open to other ideas. Anybody have one?