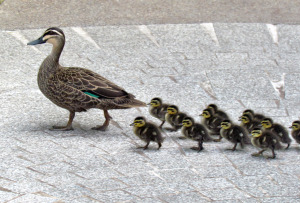 Last week we wrote about how you can stand out in a crowd with e-mail marketing. Is e-mail marketing just another time-suck to prevent you from doing your real work? You have to answer that for yourself. However, the latest research has shown that e-mails have twice as many conversions than search or social.
This is a great tool, but the first question most people have is, "How do I get an e-mail list?"
The most popular blogging platforms are WordPress and Blogger. Both of these platforms have e-mail subscription/capture options.
With WordPress, you can find the plug-in for e-mail capture here. This free tool creates a "two-field" form that captures name and e-mail address and is double opt-in so it is compatible with the CAN-SPAM act. If you want to increase the number of subscribers, you can have the plug-in forward to a free downloadable eBook, contest or giveaway. When you are ready to download your e-mail contacts, you can export via CSV file and upload directly into your e-mail marketing program.
With Blogger, you have available a "Follow by Email" gadget. Simply log into your account,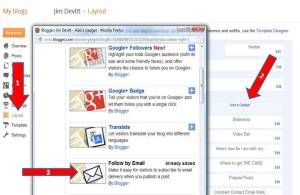 select the "Layout" tab (1) and select "Add a Gadget" (2) and scroll down to "Follow by Email" (3). It's as easy as that. From this moment on, you are capturing e-mails.
Here's the clincher—you may already be capturing e-mails! Many of you may have included the subscription option on your blog since the beginning. If so, your e-mail list is already growing. You can access your e-mail list through the Feedburner site. Login to Feedburner, using the Google account associated with the blog and click on the name of the feed that you want to download. Under the subscribers tab you can download a spreadsheet of the e-mail addresses and export directly into your E-mail marketing program.
Now you have an easy way to start building your e-mail list. Whether you want to send out a general e-mail or a full-blown marketing piece, you can stay in contact with those who have already shown their support by subscribing.