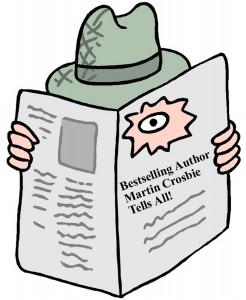 Stephen Hise and KS Brooks are off for the holidays so for once I'm able to submit an article without it being subject to their extreme vetting. This is the article you weren't supposed to read. Finally I can tell the truth about what really happens here, and the rumors that have been circulating for months can be confirmed. So, please save this article on your hard drive. Once Hise and Brooks are back online denials like you haven't heard since Rob Ford was caught on the pipe will be forthcoming. I guarantee you. Things happen here that will blow your mind, and even though we're threatened, I mean told to "keep it all in the family", I'm going to take a risk and break rank. Buckle up, here come the facts.
1. Stephen Hise is actually Richard Branson. Yes, you were right. Hise/Branson or RB as we're permitted to call him is on the ground floor of the Indie revolution. He recognized that the world of literature was changing, assumed the alter-ego of Stephen Hise, and controls everything, and I mean everything, from Indies Unlimited headquarters. Slowly, and ever-so-subtly, you'll begin to see the Virgin logo inserted on the pages of the IU site at the beginning of 2014.
I'm inserting two separate photos so you can compare. Oh, and please take note that you will never, ever see them photographed together. It's because they're the same person.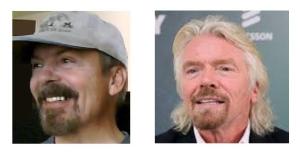 2. All "likes", including but not limited to – page "likes", Facebook "likes", and all and any other "likes" are a complete waste of time. The rumor that they are helpful and will increase visibility was invented by a backroom staffer at IU who wanted to force authors away from writing new material, thus making the playing field less competitive. There is zero value in "liking" a page.
Said staffer has now been "siberia'ed", (in the words of Hise and Brooks), and is no longer part of the infrastructure. Apparently he/she is now publishing poetry through Smashwords. Save your time and quit "liking" stuff. Go write another book.
3. There are not, and never will be any brown M and M's found in any of the Indies Unlimited staff areas. Apparently this dates back to a relationship KS Brooks had with Diamond Dave back in the eighties. And, yes, it was during the Van Halen days. That's the only information I have on that one.
4. Indies Unlimited staff writers are routinely dispatched on covert missions to study the writing habits of other Indie writers all over the world. You thought you saw someone who looked like me, or Chris James, or Laurie Boris outside your home? You might have been right. It could have been one of us. Our missions, when we choose to accept them, involve reporting on what's going on in Indieland. Our only reward is that we're allowed to keep the air miles we accumulate. So, close your curtains. We're probably out there.
5. There are several hundred boxes of anatomically correct bobble-head dolls sitting gathering dust in a warehouse in Spokane, Washington. And, due to a restraining order from a nationally recognized feminist organization they will never, ever be used as the promotional gifts they were intended to be. It's too bad because mine really bobbles. A lot.
6. There is currently interest from two minor television production companies who would like to develop the Hise/Brooks story into a made-for-TV movie. Or maybe it's a reality show. I can't remember the exact details on that one.
There's more, much more. There are invite-only toga parties, initiation ceremonies, weekly consults with psychics, and the mandatory black, velvet framed pictures of Elvis that have to be hung on every single wall of the Indies Unlimited offices. That's enough for now though, I've told you too much already. If there's any decency left in the world, the truth will be revealed soon. And, as I said in my very first IU article – I'm glad to be here, glad to be part of the lunacy, glad to be part of history. Thanks for having me Kat and Stephen.