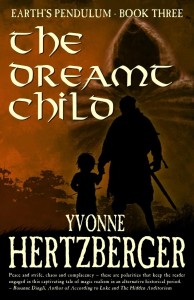 Today we have a sneak peek from The Dreamt Child, the epic fantasy by Yvonne Hertzberger.
Liannis, the goddess Earth's seer, can no longer deny the meaning of her recurring dream. She must join with (marry) Merrist, her devoted hired man, and bear a child – one with great gifts. Earth has decreed it. But the people resist the changes, bringing danger to the pair and strife to the lands. Both Liannis and Merrist must face tests, sometimes without each other, to fulfil their destiny and bring The Dreamt Child forth into safety. They must succeed if they are to initiate the new era of peace and balance so desperately needed.
The Dreamt Child is available at Amazon.com, Smashwords, Amazon UK, and other online retailers.

Here is an except from The Dreamt Child…
Still, he was a healer and could not let the man die. And he might need the man's assistance later if he wanted to escape. By the time he had thought all this through he had already begun sending healing energy into the man's leg to remove the festering and the pain. When he sensed that the wound was clean, and the man pain-free, he forced himself to stop. But he knew that, given time and energy, he could heal the man completely and help him walk again. Just not yet. He needed to rest.
The man groaned and opened his eyes before Merrist finally removed his hands. "Wha?"
Merrist reached for the bucket and held it so the man could drink, which he did with great gulps until Merrist pulled the bucket away and took another long draught himself, noting when he stopped that there was not much left. "Can you eat?" Merrist pulled the bowl within the man's reach. "I'll help you." He broke off a chunk of bread and dipped it into the water to soften it. "Here."
The man managed three bites, then lowered his head to the floor and tuned away. "No more."
"Are you in pain?"
At that the man turned back to him, a slow look of surprise crossing his face. "Nah, it be gone."
"Good, I have healed the wound and removed the pain. You will regain your strength, now."
The look of surprise turned to awe, then puzzlement and lastly, disbelief. "Tha' be na' possible."
"Yet, it is so." Merrist waited for that to sink in then added, "I am a healer. I have examined your wound and I can restore your leg so you will walk again."
The man roused himself so that he could reach his wound and began to probe it with great care, sending Merrist suspicious glances several times as he did so. "Where be th' cut?"
"I healed it."
The man pulled up the blood crusted leg of his trousers so that he could examine his leg more closely. Finding no cut and not even a scab he lowered himself back down, his energy spent, and gave Merrist a long, probing look. "You ha' done this?"
"Yes."
"An' ye say ye c'n make me walk?"
"I can, though it will be difficult."
"Wha' sort o' magic be this? Be it ev'l?"
"No, it is a gift from Earth. She has made me a healer."
The man looked at Merrist again, as though trying to make up his mind. After several moments he said, "Then make me walk. If ye' be false I lose nought."
"I will, but I must ask something in return."
When the man did not answer, his face darkening again with suspicion, Merrist added. "When I heal it weakens me. I need food and drink. Will you make certain that I drink the rest of the water and eat some of that bread and cheese?"
The man looked at the bowl. "I c'n do tha'.
---