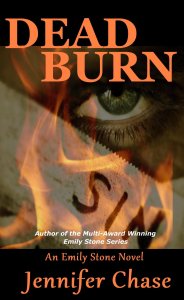 Vigilante detective Emily Stone hunts down serial killers and child abductors, covertly and under the law enforcement radar, using her intrinsic skills of criminal profiling and forensic investigation. With Stone's toughest case yet, an arson serial killer immediately crossed her path and sent her into the dark territory of a lethal pyromaniac's mind – to the point of no return.
Dead Burn, the crime thriller by Jennifer Chase, is available from Amazon, Smashwords, and Amazon UK.

Don't forget, you can cast your vote for trailer of the month on January 25, 2014 at 5 p.m. Pacific time.